Gulf States Lend Sudan $2 Billion to Boost Foreign Reserves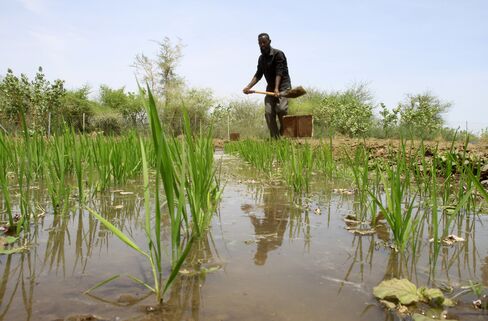 Sudan received about $2 billion of concessional loans from Gulf Arab nations in the past three months, a Finance Ministry official said, a sign of improving ties with the region's U.S.-allied monarchies.
Sudan, under U.S. sanctions since 1997 because of its alleged support of terrorism, in March joined Gulf nations such as Kuwait and the U.A.E. in Saudi Arabia's campaign against Houthi rebels in Yemen, contributing aircraft and signaling its willingness to send ground troops.
"We have agreed with the Gulf states on more foreign capital inflows into the country, which will help in lifting foreign reserves" and assist in funding imports including fuel, State Minister for Finance Abdel-Rahman Dirar said in a July 15 interview in the capital, Khartoum. He didn't identify which countries provided the funds, saying that they would be repaid in "coming years."
The North African country, which lost about three-quarters of its oil reserves when South Sudan seceded four years ago, is targeting economic growth of 6.3 percent by the end of 2015, up from 3.6 percent last year, Dirar said. Agriculture, which represents about a third of the economy, is one of its main drivers, as well as service and mining industries, he said.
Annual inflation, which peaked at 46.8 percent in July 2014, is expected to ease below the 18.3 percent it reached last month, slowing to 15 percent by year-end, according to Dirar.
Oil Decline
Sudan's foreign-exchange reserves currently stand at $1.4 billion, Dirar said. That compares with about $1.5 billion at the end of March 2014, according to a report from the International Monetary Fund in August last year.
Yemen, a battleground for Saudi Arabia and Iran in their tussle for regional supremacy, posed a question of loyalty for Sudan, which has received Saudi loans and investments while fostering ties with Iran. Analysts in March said Sudan's involvement showed a shift of allegiances toward Gulf Arab countries, and that it could bring economic rewards.
A global decline in oil prices has benefited Sudan, a net importer of the fuel, Dirar said. The country exports neighboring South Sudan's crude through pipelines to a port on the Red Sea, with Sudan's government collecting fixed transit fees. Though South Sudan, whose economy has been roiled by 19 months of civil war, has requested talks to lower the charges, Sudan's government has no plans to change the pricing, Dirar said.
Domestic Output
The Oil Ministry said earlier in July that it's seeking to raise domestic output, clustered in the country's south, to about 140,000 barrels per day, drilling 400 wells over the next four years.
Sudan, which has sub-Saharan Africa's sixth-biggest oil reserves, has been ruled by President Umar al-Bashir since he seized power in a coup in 1989. The International Criminal Court indicted al-Bashir, 71, in 2009 and 2010 on charges of war crimes and genocide for his role in atrocities in Sudan's western Darfur region, where insurgents took up arms in 2003.
Sudan made subsidy cuts in late September 2013, nearly doubling fuel prices overnight and spurring protests in which rights groups said as many as 170 people were killed.
Before it's here, it's on the Bloomberg Terminal.
LEARN MORE