Greece Creditors Said to Plan Bailout Disbursement by Aug. 17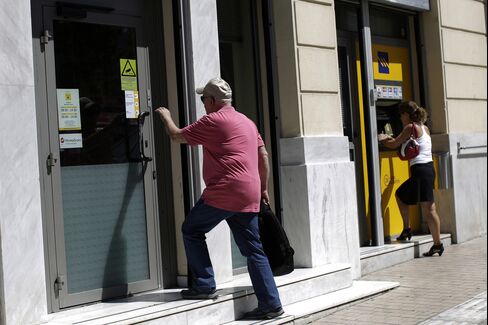 Greece's creditors plan to wrap up talks on the terms attached to the country's new bailout by Aug. 6 and disburse the first tranche by Aug. 17, an international official with knowledge of the matter said.
Officials from the European Commission, the European Central Bank and the International Monetary Fund are working on a new Memorandum of Understanding, setting out the conditions for the emergency loans for the next three years, the person said, asking not to be named, as the schedule for the weeks ahead is tentative and depends on the progress achieved in negotiations between the two sides.
On Monday, Greece reopened its banks and used loans from the European Union's crisis fund to clear its arrears to the IMF as the cash-strapped nation claws its way back to normality after coming close to economic collapse.
The timing for the approval of a package worth 86 billion euros ($94 billion) is delicate. According to the official, national parliaments that have to approve the bailout need to do so by Aug. 13 so that a disbursement can take place in time for a bond redemption of about 3.2 billion euros for notes held by the ECB. On Monday, Greece paid the ECB punctually about 4.2 billion euros in maturing debt and interest.
To release aid before that ECB payment comes due, the Greek parliament must approve all the prior actions set by creditors by Aug. 7, the official said. After that, the Euro Working Group of technical staff as well as finance ministers from the currency bloc are scheduled to sign off on the package by Aug. 11, according to the official.
Tight Timeline
A spokesman of the Greek finance ministry declined to comment on the timeline for the weeks ahead.
"We are working on the completion of the Memorandum of Understanding for the new ESM program," EU Commission spokesman Margaritis Schinas told reporters in Brussels on Monday. "These preparations are well under way."
Greece's parliament is scheduled to vote on Wednesday on a second wave of prior actions demanded by creditors. The bill includes measures to simplify bank restructuring and resolution procedures in line with the rest of the EU and overhauls in the civil justice system.
The government withdrew from the bill plans to scrap early retirement options and tax increases for farmers. The international official said that the omission doesn't constitute a problem as long as the measures are eventually included in a third set of prior actions in August.
As talks between the government and its creditors enter their final stage, high-ranking representatives from creditor institutions are scheduled to visit Athens either on Friday or early next week, the person said.
For more, read this next:
Before it's here, it's on the Bloomberg Terminal.
LEARN MORE