Khamenei Says Iran's Regional Alliances Intact After U.S. Deal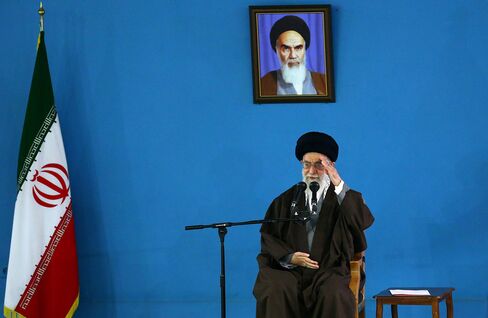 Iran's Supreme Leader Ayatollah Ali Khamenei said the nuclear deal with the West won't change the Islamic Republic's relationship with the U.S. or its alliances in the region.
In his first speech since the Joint Comprehensive Plan of Action (JCPoA) was announced in Vienna July 14, Khamenei thanked President Hassan Rouhani and Iran's negotiators for their "hard work and efforts" and asked officials to carefully consider the text of the deal and allow it to run its course through the approval process without misunderstanding its content.
"Whether this text is approved or not, we will not cease the support of our friends in the region," Khamenei said in an address to hundreds of worshippers in Tehran that was broadcast live on state TV. "And our policy towards arrogant America will not change at all."
Iran will continue backing its allies in the Middle East -- where its policies "differ 180 degrees from America's" -- including its support for Syria's government, Hezbollah in Lebanon, the Yemeni people and Palestinians, Khamenei said.
The deal has raised concern among Shiite Iran's Sunni rivals in the Gulf, including Saudi Arabia, who have questioned whether Iran can be trusted to honor the accord and how it may use its newfound clout and revenue in a region ripped apart by sectarian conflicts.
U.S. claims that the deal stops Iran from gaining a nuclear bomb were wrong as there was a long-standing fatwa -- or religious ruling -- against weaponizing the program, Khamenei said.
"Our nuclear research and development will continue, our nuclear industry will continue to turn," he said.
No 'Abuse'
Earlier this week Iran and six powers -- the U.S., France, Germany, Russia, China and Britain -- ended a 12-year standoff over Iran's nuclear program, with an agreement that would significantly curb and closely monitor Iran's uranium enrichment capabilities in return for lifting sanctions that have hobbled the country's economy.
Without referring to the details of the deal, which has already provoked fierce opposition from Republicans in Washington and some of Rouhani's hardline political opponents in Tehran, Khamenei said that no "abuse" of the deal would be allowed to take place, and dismissed the "haranguing" of U.S. lawmakers as part of their "domestic problems".
"They say they brought Iran to submission, while this is something that they will never be able to do," Khamenei said, as the crowds responded with chants of "Death to America" and "Death to Israel".
Before it's here, it's on the Bloomberg Terminal.
LEARN MORE