FIFA's Webb Pleads Not Guilty in U.S. to Corruption Charges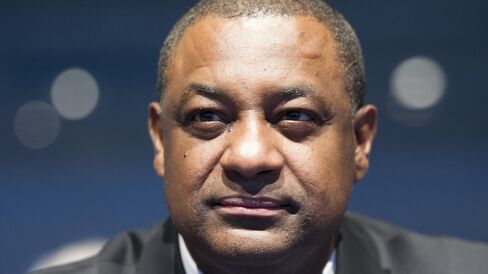 Jeffrey Webb, one of seven FIFA officials arrested on corruption charges in Zurich, pleaded not guilty in his first appearance in a U.S. court.
Webb, 50, who once served as FIFA's vice president, was freed Saturday on $10 million bond and ordered by a U.S. judge to remain under house arrest and around-the-clock guard.
Unlike the six other officials at soccer's governing body he was arrested with in May, Webb didn't fight extradition to the U.S. to face trial, which may indicate that he's willing to help prosecutors in an ongoing investigation of corruption at FIFA. He was transferred to New York earlier in the week.
http://www.bloomberg.com/graphics/2015-fifa-scandal/embed.html?Jeffrey%20Webbvvv1
His lawyer Edward O'Callaghan declined to comment after court and wouldn't say if his client was cooperating with the U.S.
If he does agree to help prosecutors, Webb could provide a road map to the inner workings of FIFA and his dealings with outgoing President Joseph "Sepp" Blatter, who hasn't been charged. He was also close to Jack Warner, an ex-president of Concacaf, soccer's governing body for North America, Central America and the Caribbean.
Appearing in Brooklyn, New York, federal court Saturday afternoon, Webb, who's accused of accepting bribes worth millions of dollars tied to the sale of marketing rights, pleaded not guilty to federal racketeering, wire fraud and money-laundering charges. If convicted of the most serious charge of racketeering, he could face as long as 20 years in prison.
Media Rights
Webb is among FIFA officials and marketing executives charged in a racketeering and bribery indictment unsealed May 27. The U.S. said Webb, who was suspended by FIFA, took millions of dollars in bribes and kickbacks for media rights to soccer tournaments.
U.S. Magistrate Judge Vera Scanlon allowed Webb to leave the courthouse Saturday after four relatives, including his wife Kendra Gamble-Webb, a physician, and her parents, agreed to put up various properties around the U.S., including homes in Brooklyn, Pennsylvania and Georgia, to help secure the bond. He was also directed to surrender two U.K. passports and one Cayman Islands passport.
Webb was ordered to live within 20 miles (32 kilometers) of the Brooklyn courthouse and to remain under 24-hour house arrest with electronic monitoring.
Webb must also be watched by around-the-clock private security detail approved by the Federal Bureau of Investigation and paid for by him, Scanlon said. He must get permission from the Federal Bureau of Investigation before leaving the home to visit his lawyer or church, and must be accompanied by the security detail, the judge said.
Webb's Relatives
Webb's relatives, including his wife, her parents and his wife's grandmother were in court for the hearing.
"I am sure Mr. Webb appreciates you being here today," Scanlon told the family after they'd signed the bond which secured his release.
Webb was also barred from contacting any possible witnesses or co-conspirators in the FIFA case. After O'Callaghan said his client didn't know the names of some of those co-conspirators, Scanlon ordered Assistant U.S. Attorney Darren LaVerne to submit the list to Webb and his lawyer.
Webb only said in court that he understood the charges and entered his not guilty plea.
A former Cayman Islands banker, Webb became a favorite of Blatter, who suggested he would be an ideal successor. As the deputy chairman of FIFA's internal audit committee for a decade, Webb may have details of financial transactions signed off by Blatter and sent to soccer officials implicated in the scandal.
Corruption Scandal
Warner quit amid a corruption scandal in 2012 and is among those indicted, accused of taking bribes for media rights.
Prosecutors say Webb took up where Warner left off, cashing in on the lucrative television rights that Concacaf controlled.
The pressure on Warner, a Trinidad resident, is building from those close to him. His two sons have pleaded guilty, as has Charles Blazer, 70, Concacaf's former general secretary. All are cooperating with prosecutors. Webb also served a decade ago as the director of a Cayman company that Warner controlled, court records show.
The next hearing in the case is scheduled before U.S. District Judge Raymond Dearie on Aug. 17, Scanlon said.
The case is U.S. v. Webb, 15-cr-00252, U.S. District Court, Eastern District of New York (Brooklyn).
Before it's here, it's on the Bloomberg Terminal.
LEARN MORE