Australia Continues Oil-Spill Search Near Great Barrier Reef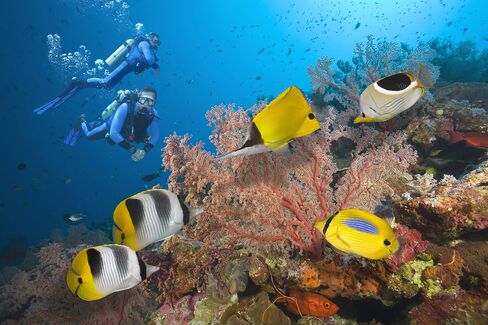 Maritime authorities will continue searching an area near Australia's Great Barrier Reef where patches of oily water have been detected, after an aircraft Saturday failed to locate any material trace of oil.
Shoreline searches are being conducted and a helicopter will fly over the area south of Townsville looking for a possible spill, Queensland's Department of Transport and Main Roads said Saturday in an e-mailed statement. While samples of the sheen have been taken for analysis, no on-water response is needed as the residue is being broken up by the weather, it said.
There are 12 trading ports along the Great Barrier Reef coast that include export terminals for liquefied natural gas and coal. While the search continues, an aircraft using ultra-violet light sensing equipment has not been able to detect any significant signs of oil, the department said.
"The visual search will cover the reported area of light sheen, which was assessed as up to approximately 30 kilometers (19 miles) in length and 5 kilometers wide," the transport department said. "That whole area was not impacted. It is believed some of the sheen may have dispersed overnight."
Maritime Safety Queensland on Friday confirmed the reported sighting by fishermen of the patches of oily water.
"A water police vessel out of Townsville and Emergency Management Queensland helicopter investigated and reported a sheen on the water and small oily patches about 1 meter in diameter," the agency said in an e-mailed statement.
The reef, a Unesco-protected site, is the largest living structure on the planet and is home to more than 1,600 types of fish, according to the Great Barrier Reef Marine Park Authority. A Chinese-registered bulk carrier ploughed into it in April 2010, severely damaging or destroying an area covering 115,000 square meters.
Before it's here, it's on the Bloomberg Terminal.
LEARN MORE