The housing market looks like it's finally starting to get its mojo back. Friday's starts data surprised to the upside and showed new-home construction last month rose to its second-highest level since 2007, with much of that gain being driven by apartment projects.
While that's good news for the growing number of Americans eschewing homeownership, it could also mean the housing market improvement packs a slightly smaller economic punch, according to Ryan Sweet, a senior economist at Moody's Analytics Inc. in West Chester, Pennsylvania.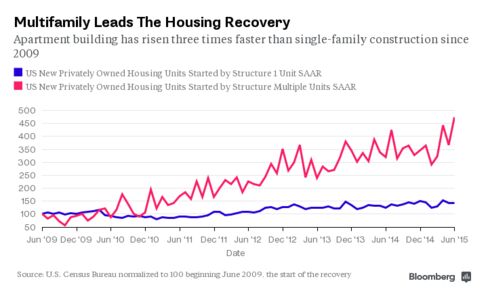 Each multifamily housing start creates about two jobs over the course of the year, while each single-family start creates four or five, he said. Apartments are usually smaller than single-family homes, and less building materials are often needed. There's also a trickle-down effect involved when people buy a home because they also have to buy all the things that go into it. Smaller spaces theoretically mean less stuff bought to fill them, which means relatively less demand for that stuff, which means fewer people needed to make that stuff.
Future construction of single-family homes may be poised to pick up, even after starts for those structures eased in June to a 685,000 rate from 691,000 a month earlier. Permits for single-family homes rose to the highest level since January 2008, meaning there should be an increase in ground-breakings in the coming months.
Still, the increase in apartment construction is an unalloyed positive for the economy, said Stuart Hoffman, chief economist at PNC Financial Services Group Inc. in Pittsburgh. For many young adults, renting is their first foray into housing. As they settle down, get married and have children, buying a home and all its trappings follows.
More multifamily construction might also help ease pressure on rents, which have been rising so quickly they're lifting otherwise tepid overall inflation figures.
The cost of living in the U.S. rose last month for the fifth straight month, as rents climbed by the most in almost two years. Excluding food and fuel, core inflation advanced 0.2 percent, with about two-thirds of the increase caused by rising rent.
While the trend isn't great for renters, the higher inflation levels will help the case of those in the Federal Reserve who favor raising its benchmark interest rate sooner rather than later. Policy makers have said they need to be "reasonably confident" overall inflation is heading toward their 2 percent goal before increasing the rate for the first time since 2006.

Before it's here, it's on the Bloomberg Terminal.
LEARN MORE