Peru Haunted by 7% Guano Bonds Predating Machu Picchu Discovery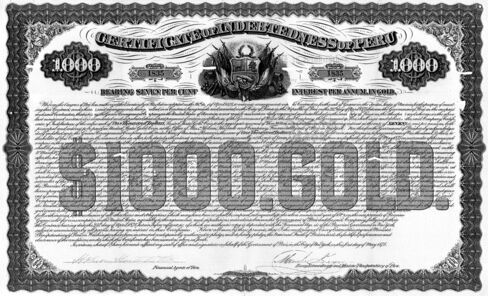 An old debt for Peru has come home to roost.
Fourteen bonds the country issued in 1875 to pay off debt to a U.S. guano consignment company are now held by an Illinois firm that says it's having a hard time redeeming them.
Each bond promised a payoff of $1,000 "United States Gold coin" plus 7 percent interest a year, according to the complaint filed Thursday by MMA Consultants 1 Inc. in federal court in New York.
The bonds bear the signature of Don Manuel Freyre, who is described as the "Envoy Extraordinaire and Minister Plenipotentiary of Peru," according to the complaint.
MMA said it sent three letters to Peru's Minister of Economics and Finance requesting payment to no avail. The company is suing for breach of contract. It didn't reveal in the lawsuit how it came by the bonds.
Guano, the dung of seabirds, found especially on islands off the coast of Peru, is used as a fertilizer.
The case is MMA Consultants 1 Inc. v. Republic of Peru, 15-cv-05551, U.S. District Court, Southern District of New York (Manhattan).
Before it's here, it's on the Bloomberg Terminal.
LEARN MORE