German Lawmakers Back Greek Aid Talks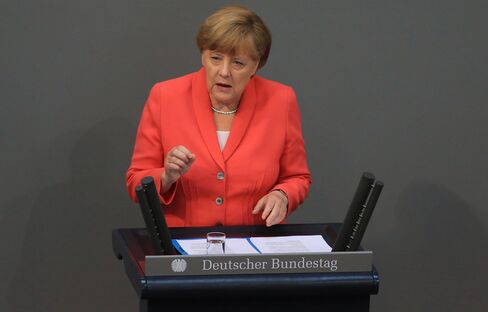 German lawmakers cleared the way for talks on a third Greek bailout after Chancellor Angela Merkel warned that failing to try would be reckless and sow chaos.
Merkel faced down her party bloc's biggest revolt over Greece yet and wielded her government majority in parliament's lower house to back the mandate on Friday. Merkel's Christian Democrats and their Social Democratic coalition partner ensured passage with 439 votes in favor and 119 against, including 60 opponents in her Christian Democrat-led bloc. Forty lawmakers abstained.
Five years after the debt crisis spread from Greece, Merkel renewed her argument for geopolitical stability and threw her standing behind persuading increasingly fed-up Germans that Europe's most-indebted nation still deserves aid.
"We are working to ensure that Greece remains a member of the euro because the euro is much more than a currency," Merkel told lawmakers in Berlin in a speech before the vote. "A lot more is at stake" than Greece, she said, citing conflicts in Ukraine and the Middle East and Europe's refugee crisis.
Merkel said the advantages of an aid package of as much as 86 billion euros ($94 billion) outweigh the drawbacks. A temporary Greek exit from the euro area is a less desirable option even if Prime Minister Alexis Tsipras wanted it, because it would lead to "predictable chaos," she said.
Reckless Act
"We would be committing an act of recklessness if we didn't at least try" the path of bailout talks, Merkel said.
Months of standoffs over aid and austerity between Prime Minister Alexis Tsipras and creditors have led to deposit flight and capital controls, pushing Greece to the brink. The Greek leader surrendered Monday to fresh demands for austerity and privatization, opening the door to talks on a new bailout.
German Finance Minister Wolfgang Schaeuble, who dangled the prospect of a Greek time-out from the euro, said Friday he still sees a way out of the crisis with the bailout.
"We must find a way that works, that functions, and that is very complicated," he said. "This is a last attempt to fulfill this extraordinarily difficult task."
With the vote, lawmakers backed talks on aid from the European Stability Mechanism, the euro area's permanent firewall fund, and a loan to keep Greece afloat during talks on the proposed three-year bailout. German lawmakers also have to vote on any deal that's negotiated.
'Bottomless Barrel'
In a sign of growing exasperation with Greece, the number of dissenters in Merkel's bloc more than doubled from the 29 who voted against extending the second Greek bailout in February.
"If you have a bottomless barrel, you can pour as much water as you want into it -- it will never fill up," Christian Democrat Klaus-Peter Willsch, who voted against the government's line, said in a floor speech.
Gregor Gysi, floor leader of the anti-capitalist Left party, said Schaeuble is permanently damaging Germany's reputation and tearing down the objective of European unity.
"Mr. Schaeuble, I'm sorry, but you're destroying the idea of Europe," Gysi told lawmakers.
Before it's here, it's on the Bloomberg Terminal.
LEARN MORE