House Leader Urges Biggest Brazil Party to Abandon Rousseff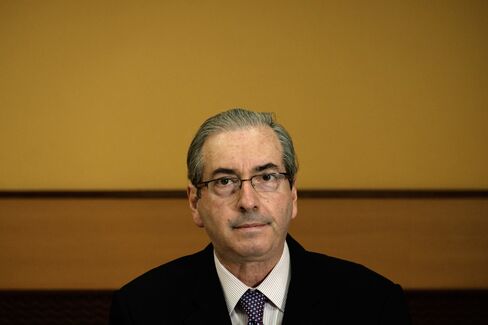 Brazilian lower house President Eduardo Cunha urged his party, the biggest in the country, to abandon the ruling coalition. The real fell.
Cunha's Democratic Movement Party has so far been key to preventing the political crisis engulfing President Dilma Rousseff from spiraling out of control. Vice President Michel Temer, who is also the leader of the PMDB, as the party is known, has taken the lead in negotiating support for the government's economic recovery plan.
As head of the lower house, Cunha is instrumental in deciding whether to hold an impeachment vote. He openly opposed the government after he was accused of accepting kickbacks in exchange for a contract with Petroleo Brasileiro SA. He denied wrongdoing and said the government was behind a plot to persecute him.
"I consider, as of today, that I'm personally breaking ties with the government," Cunha told reporters in Brasilia. "I will urge during the PMDB convention in September that the PMDB leave the government."
The real is the worst performing major currency Friday as traders weigh whether Cunha's opposition will derail the government's austerity plan and further weaken a president facing threats of impeachment.
Cunha's decision is personal and doesn't reflects the PMDB's position, which can only be taken by its executive board, political council or national board, the party said in a statement. The presidential press office reiterated in a statement that Cunha's decision is personal, adding that it expects him to remain impartial as president of the lower house.
Vice President Temer wants the PMDB to remain in the allied base and isn't considering plans to leave the government now, a person with direct knowledge of his position said.
Before it's here, it's on the Bloomberg Terminal.
LEARN MORE