Pork Glut Batters European Farmers, Leaving Surplus for Sausages and Dog Food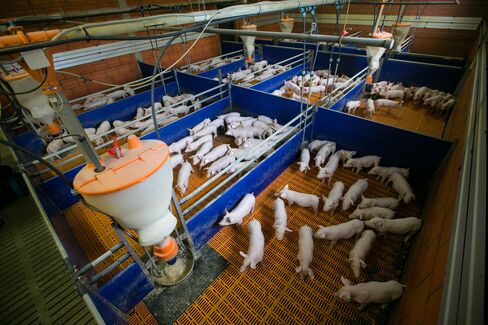 Soren Sondergaard's family has been raising pigs in Denmark for 138 years, and 2015 is turning into one of the worst.
Like a growing number of producers in Europe, Sondergaard is losing money because of an unexpected pork surplus. After the region's biggest buyer, Russia, banned imports 18 months ago, prices are down 16 percent from a year earlier. In Denmark, where pigs outnumber people three to one, Sondergaard may lose 100,000 euros ($109,000) on the 30,000 animals he raises this year in Billund.
"It's quite dramatic for a small farm like us," said Sondergaard, 35, whose family's agriculture roots began in 1877. "There are quite a lot of farms in Denmark that are closing down."
The EU is the world's biggest pork exporter. Output last year rose to 22.4 million metric tons, twice the amount produced in the U.S., the next-largest shipper, U.S. Department of Agriculture data show. While a weaker euro helped boost the bloc's exports, especially to Asia, prices stayed low because the new customers aren't interested in the same meat products that Russia was.
That's left a glut of pig fat and lard, with some now going to industrial users including pet-food makers, who pay a lot less, said Jens Hansen, a spokesman at Danish Crown A/S, Europe's largest pork processor. Rising feed costs also are making more farmers unprofitable, said Albert Vernooij, an analyst at Rabobank International in Utrecht, Netherlands.
"Across the EU, pig prices are generally well below the full cost of production," said Stephen Howarth, a market specialist at the U.K.'s Agriculture & Horticulture Development Board in Kenilworth, England.
Russian Ban
Russia banned EU pork imports in January 2014 after the discovery of African swine fever in wild boars in countries including Poland and Lithuania. As recently as 2013, Russia accounted for 24 percent of EU pork exports, valued at 1.4 billion euros.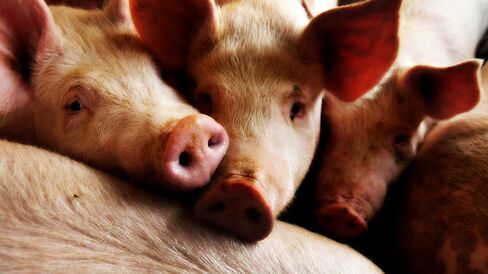 In August, a second ban was imposed on EU and U.S. foods in retaliation for sanctions related to Russia's incursions in Ukraine. President Vladimir Putin said last month that trade restrictions on food will stay in place for another year.
The restrictions also have led to losses for all sorts of EU producers, including dairy and beef-cattle farmers, Brussels-based farm lobby Copa-Cogeca said.
Cutting Herds
There are signs that farmers started curbing supplies. Germany, the EU's top producer, cut its breeding-sow herd in May by 2.5 percent from a year earlier, government data show. Poland's breeding herd in March was 4 percent smaller than a year earlier, signaling potential reduced output in the future.
Exports are starting to rebound, partly as a weaker euro makes purchases appealing for Asian buyers. Pork shipments in the first four months of 2015 rose 9 percent from a year earlier, according to AHDB analysis of Eurostat and industry figures. Sales to China and South Korea are up more than 25 percent, and Taiwan almost doubled its EU purchases.
The trouble is that Asian customers don't want the fatty shoulder cuts and lard good for making sausages, which the Russians used to buy. That reduces the carcass value, Danish Crown's Hansen said.
Even with herd cuts, the EU forecasts pork output will rise 3 percent this year and 0.9 percent in 2016, partly due to more efficient breeding in some countries.
Price Slump
On average, pig carcasses sold for 1.49 euros a kilogram at by early July, down from 1.78 euros a year earlier, according to the European Commission. Prices probably will stay low through the year-end, Rabobank's Vernooij said.
In Germany, farmers are getting about 1.40 euros a kilogram for pigs, the lowest for this time of year since 2010, said Matthias Quaing, a market analyst at Damme, Germany-based pig farmers group known by the acronym ISN. Producers need 1.60 euros to 1.70 euros to break even, AHDB estimates.
Even as losses mount, Sondergaard said he has no plans to reduce production, relying for now on bank loans and spending cuts.
"We will try and stay in business because we've made a lot of investments," including a pig stable for 1,000 sows a few years ago, he said. "There is not really any way out of it. We go full speed and we hope that it will be better."
Read this next:
Before it's here, it's on the Bloomberg Terminal.
LEARN MORE