These Online Lenders Could Be China's Next Big Trouble Spot
With no sense of irony, China's online finance platforms are marketing themselves as a haven from gyrating stocks just as ratings companies warn the industry is brittle and failures could cause investors losses.
Among market leaders, Renrendai.com said in a text message to users that its service, which links lenders to buyers of furniture or entrepreneurs starting businesses, offers a "sedate shelter" from stock-market volatility. Jimubox.com sent a message to clients saying equities are going "insane" and offering cash incentives for investment.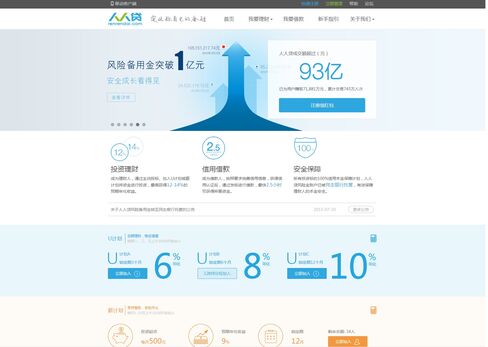 Appeals from the more than 2,000 so-called peer-to-peer lenders in China's massive 41 trillion yuan ($6.6 trillion) shadow banking system are drawing investors to a lightly regulated business. The securities watchdog this week banned all such firms from lending for stock purchases after at least two failed due to delinquencies. The Yingcan Group consultancy estimates 1,500 of the platforms may go bankrupt or have difficulty paying dues, up from 275 in 2014.
"It's unrealistic and deceitful to say online financing platforms are safe and free from risks," said Guan Jianzhong, chairman of Dagong Global Credit Rating Co., which has put more than 1,300 P2P companies on a blacklist. "More than 90 percent of the firms don't disclose enough information to investors, who will be the losers in the end."
Promised Returns
Shao Yifei, a finance-industry worker in Shanghai, bought into the haven argument, cashing out of the equity market halfway through its crash on June 26 and investing 50,000 yuan in a Web finance product funding small companies.
"The online platform I use promises an annual return of as much as 9 percent," said Shao. "I wasn't confident the government would be able to stem the stock rout."
While online finance is much smaller than the equity market and its safety varies depending on the activities of the firms, the industry is growing along with its exposure to risky investments. P2P returned an annualized 14.2 percent last month, according to Yingcan, compared with the 3.5 percent 10-year sovereign bond yield.
Yingcan estimates a record 275,000 people put money into online lending firms in June, bringing the number of total users to 1.5 million. Internet sites lent 3.1 billion yuan for stock investments in May, six times the amount offered in January, it estimates. Yingcan says total P2P funding will grow to 10 trillion yuan "very soon."
'Unhealthy' Industry
The Shanghai Composite Index surged 150 percent from July last year to a peak on June 12, before tumbling 25 percent till Friday. The plunge prompted P2P companies to try and lure some of China's 90 million individual stock investors, who account for 80 percent of the nation's 42 trillion yuan market.
"The P2P industry is unhealthy and one can't say investing in online lending products is safe," said Ma Jun, chief researcher of Internet finance at Yingcan's consulting unit. "Some irresponsible companies use high returns as a lure but don't inform investors of the high risks. That forces some good firms to start providing similar risky products."
Some platforms say they are running thorough checks on the products they either design or market.
An Alibaba Group Holding Ltd. finance unit posted an advert online that likened the products it markets for other companies as spare car tires that ensure "stable happiness." Alibaba affiliate Zhejiang Ant Small & Micro Financial Services Group Co. said in an e-mailed response that financial institutions, including banks and insurers, do due diligence on all the items it promotes on its Zhaocaibao platform.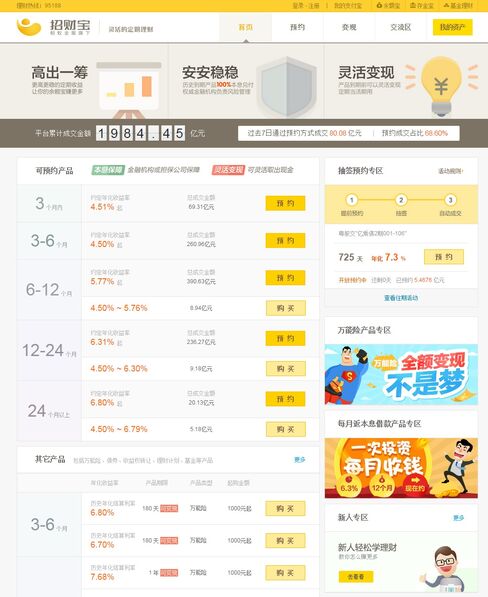 Risk Control
PPmoney.com, China's third-most widely used online lending platform tracked by Yingcan, employs more than 100 people, or about 25 percent of its workforce, to check the products they sell, co-founder Hu Xin said through a spokeswoman on July 15. Renrendai.com didn't reply to two e-mails seeking comment.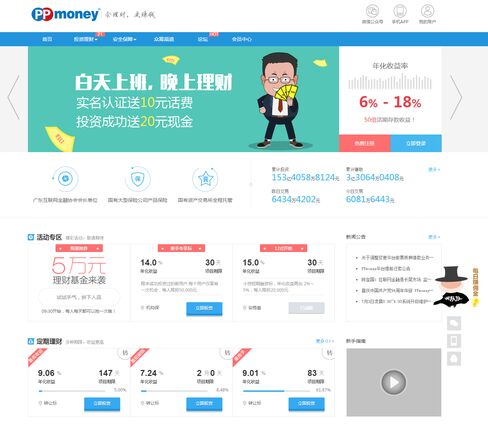 Jimubox, which has been on Dagong's blacklist since April, said the lack of transparency in the industry doesn't necessarily mean it is more exposed to losses.
"P2P products are riskier than bank wealth-management products, and most platforms don't fully disclose information," Trent Xie, Jimubox's chief risk officer, said in a July 16 e-mail. "P2P platforms don't fully disclose information for many reasons, for example, some debtors consider the information private or business secrets."
Regulatory Response
The last crackdown on less-regulated shadow banking two years ago triggered a stock market slump, halted bond sales and starved property companies of funds. In June 2013, the central bank allowed overnight interbank borrowing costs to surge to a record 12.85 percent to expose banks with improper wealth management operations. Trust products, including one called Credit Equals Gold, had to be bailed out.
The watchdogs are again on the prowl. The China Securities Regulatory Commission said on July 12 that it would stop online sites from handing out loans for share purchases. Two faxes to official regulators failed to deliver a comment on the industry.
Jiangsu-based Zhongxin Quick Loans, which lends to both individuals and corporates, issued a statement this month saying it is liquidating its assets because its borrowers cannot repay their loans. Bangcheng Financial, located in Fujian province, said it is restricting payments to investors offering loans on its site after too many tried to cash out.
A guideline that seeks to "promote the healthy development of Internet finance" drafted by the People's Bank of China and other financial market regulators, will soon be released, the Xinhua News Agency cited Zhang Tao, an official with the PBOC, as saying in a report on Monday.
Tipping Point
As the industry grows, there is potential for the creation of bigger and stronger companies, according to Yingcan. The total amount of online industry loans almost doubled to 208.7 billion yuan at the end of June from January's 112 billion yuan, it said. Transaction volumes will hit 800 billion yuan this year, more than three times last year's 252.8 billion yuan, according to the research company.
"The P2P industry has reached a tipping point for industry consolidation, with many companies at risk of going bankrupt," Liao Qiang, Beijing-based senior director for financial institution ratings at Standard & Poor's Plc, said in a July 16 phone interview. "If it undermines investor confidence, P2P companies may face significant redemption pressures."
(An earlier version of this column corrected the name of Jimubox.)
Read this next:
— With assistance by Tian Chen
Before it's here, it's on the Bloomberg Terminal.
LEARN MORE