As Lula Corruption Probe Begins, Brazil's Crisis Heats Up Again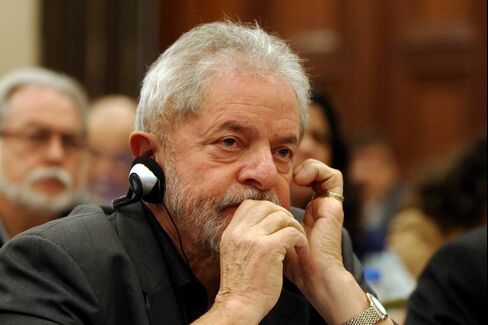 The political crisis engulfing Brazilian President Dilma Rousseff got a lot bigger Thursday, when the man who was both her mentor and predecessor was named as the target of a federal probe into foreign business transactions.
Former President Luiz Inacio Lula da Silva, whose widespread popularity paved the way for Rousseff's election in 2010, is under investigation on allegations of influence peddling to help construction company Odebrecht SA win contracts in Panama and Venezuela after his term ended.
While Lula denies any wrongdoing, the investigation still could further bog down an administration that's struggling to fend off its own corruption scandal and stabilize an economy sinking into its worst recession in 25 years. The real reversed earlier gains Thursday on concerns the probe into Lula could derail the government's austerity plan and further weaken a president facing threats of impeachment.
"It's truly a terrible moment, a delicate moment," said Cristiano Noronha, vice president of political research company Arko Advice. "The situation should get even worse in the short term. It should remain quite difficult, quite tense."
In a separate investigation, authorities are probing more than 50 politicians on alleged kickbacks paid to win contracts with the state-run oil producer. Rousseff's previous chief of staff, Senator Gleisi Helena Hoffmann, is under investigation for graft and police have detained the former treasurer of her Workers' Party for laundering money. Both deny the allegations.
Yet Thursday's announcement opens a new phase of Brazil's political scandal given Lula's unrivaled proximity to Rousseff and expectations he would make another bid for president in 2018.
'Serious Accusations'
"This adds to the trouble facing Brazil given the serious accusations made against prominent members of the Workers' Party," Congressman Mendonca Filho, the leader of the opposition DEM party in the lower house, said by phone. "This is going to intensify what's already a serious crisis."
Lula, who orchestrated Brazil's rise to investment grade and helped pull millions out of poverty during his two terms, often meets with Rousseff to give political and economic advice and stumped for her in last year's re-election campaign.
Lula also remained close to Brazilian businesses after leaving office in 2010, including Odebrecht, which is Latin America's biggest builder. Marcelo Odebrecht, the company's chief executive officer who was detained last month on allegations of corruption, said in April that Lula flew on company jets on speaking tours abroad sponsored by the firm. Marcelo Odebrecht denies wrongdoing.
Lula Surprised
The ex-president's activities were legal, a spokesman from Lula's foundation, known as Instituto Lula, said by phone Thursday, asking not to be named citing internal rules. The institute later wrote in a statement that Lula was surprised by news of the investigation, which it called unjustified.
At least one political leader wasn't caught by total surprise on Thursday, as lower house President Eduardo Cunha earlier in the day forecast the country's political crisis would worsen. He was referring to predictions that his own troubles would grow, and was right: a state's witness accused him of accepting a bribe.
Cunha denied the allegations Thursday, saying the government may have pressured the informer to lie.
"The strain of the political crisis coupled with the economic crisis is eroding the government's popularity and, as a consequence, it's losing its ability to govern," he said before the informer's charges were made public.
The administration has suffered a series of defeats in Congress over the past month as lawmakers frustrate its efforts to contain spending and raise taxes. Legislators have opposed Rousseff by approving wage increases for judiciary workers and higher pensions for younger retirees.
The probe into Lula could further damage the administration by making it harder for the ex-president to provide it with political support, Rafael Cortez, political analyst at research company Tendencias, said by phone.
"This is one more factor of political destabilization," Cortez said.
Before it's here, it's on the Bloomberg Terminal.
LEARN MORE