China Property Market Threatened by Stock Rout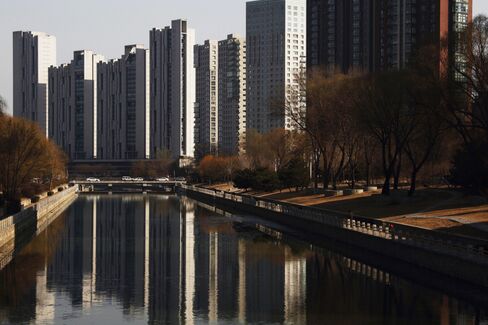 On June 10, as the Shanghai Composite Index was heading for a seven-year peak, Wan Xinjian borrowed the maximum he was allowed from his brokerage to buy more stocks.
As the market started to plummet on June 12, the 49-year-old businessman had to make contingency plans and eventually sell a 7.8 million yuan ($1.3 million) flat he was renting out for investment income in Shanghai after Haitong Securities Co. called in his margin loans.
"I'd rather keep the flat, but I have no choice," Wang said in a telephone interview, declining to specify how much he lost. "Where else can I get so much money?"
Wan's case highlights the potential threats to a housing market recovery that only picked up steam in the first half -- partly fueled by new-found wealth in an equity market that more than doubled in the year to June -- and has yet to spread nationwide and translate into a pickup in real estate investment.
"The downturn in the equity market may slow the rebound of sales, so there's some risk," said Dariusz Kowalczyk, a Hong Kong-based strategist at Credit Agricole CIB. "Even if housing sales continues to do well, it'll take developers some time to get rid of their excess inventory."
The effect on property of the stock rout that wiped more than $3 trillion of market value has yet to be felt. Average new-home prices in 100 cities tracked by SouFun Holdings Ltd. rose 0.56 percent in June, 0.11 percentage point higher than the previous month. They are still down 2.7 percent from a year earlier.
A-Share Stability
Government data on Saturday is likely to show prices continued to recover in June. New-home prices in May rose in 20 cities of 70 the bureau of statistics tracks, two more than in April, while they gained in only two in January.
Price gains have been largely driven by investors, who play a "swing factor" in China's housing market even though they account for a small percentage of buyers, according to Du Jinsong, a Hong Kong-based analyst at Credit Suisse Group AG.
The housing market for the rest of this year may be "largely dependent" on the stability of the A-share market, Du wrote in an e-mailed note.
New-home sales in the 40 cities tracked by Centaline Group dropped 18 percent in the second week of July from a month earlier. The recent stock-market rout threatens to force some to delay or scrap home purchases, eroding demand in the third quarter, said Wang Fei, a manager at the broker's Shenzhen unit.
Limited Impact
Wang said that buyers in the city where home prices have been jumping at a record pace and leading gains nationwide have been lowering budgets and setting aside plans to purchase because of the equity market plunge. A Centaline index of asking prices in Shenzhen fell 19 percentage points in the week of July 6-12 from a week earlier.
The "purchasing power of potential homebuyers could fall due to their loss in stock trades," said Liu Yuan, a research director at Centaline in Shanghai. "The impact will be limited to the short term, as the supply-demand fundamentals won't be changed."
Forced liquidations of stocks purchased with borrowed money through one of the three major non-brokerage channels totaled 15 billion yuan in the preceding two weeks, the Securities Association of China said June 30.
Prices and sales have been recovering after the government introduced stimuli to boost an economy growing at the slowest pace since 1990, including cutting interest rates four times since November.
New-home sales jumped 39 percent to 821 billion yuan in June from a year earlier, faster than the 30 percent year-on-year increase in May, according to Bloomberg calculations based on data from the National Bureau of Statistics on Wednesday.
Fragile Recovery
The shrinkage of investor wealth comes at a bad time. The housing recovery remains fragile, with the growth in property investment falling to the slowest in at least a year in the January-to-June period, and 34 developers tracked by Barclays Plc completing only 41 percent of their annual sales targets as of June 30.
While stock-market volatility may deter investors and speculators from putting money into property, strong demand from owner-occupiers should continue to drive home sales, Alan Jin, a Hong Kong-based real estate analyst at Mizuho Securities Asia Ltd.,wrote in July 13 note.
Wan, who had to break a lease with tenants as he rushed to sell his flat, said he was unlikely to go back to investing in the housing market anytime soon.
"I still have place to live, so it's hard to say whether I'll buy flat again," said Wan. "Real estate is not a place to make quick money today."
Read this next:
— With assistance by Emma Dong
Before it's here, it's on the Bloomberg Terminal.
LEARN MORE