ECB Keeps Rates on Hold as Draghi Prepares for Greece Questions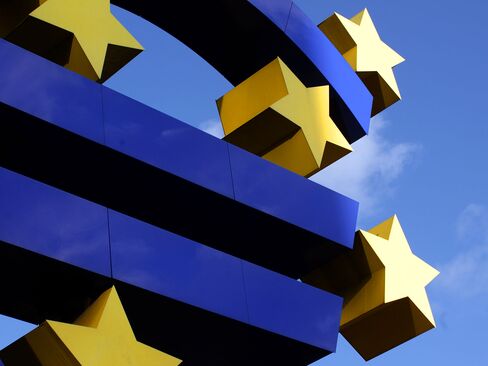 The European Central Bank left interest rates unchanged at record lows, putting the focus on President Mario Draghi's press conference where he'll face questions on Greece's banking crisis.
The 25-member Governing Council kept the main refinancing rate at 0.05 percent at its meeting in Frankfurt on Thursday, as predicted by all 52 economists in a Bloomberg News survey. The deposit rate and the marginal lending rate stayed at minus 0.2 percent and 0.3 percent, respectively.
Attention now turns to the ECB's response to a planned bailout that could prevent a Greek exit from the currency bloc and allow its shuttered banks to reopen. The less-immediate, yet potentially bigger, issue may be whether more than five months of fractious political negotiations has damaged a single currency Draghi once called irreversible.
"The Grexit talk has broken a taboo; no amount of words will get the genie back into the bottle," said Alexander Privitera, director at the American Institute for Contemporary German Studies at Johns Hopkins University in Washington. "Negotiating a bailout with the possibility of exit from the monetary union on the table makes the currency union reversible."
Bond Repayment
Draghi will speak to reporters at 2:30 p.m. in Frankfurt. The Governing Council met earlier Thursday to set the level of Greek Emergency Liquidity Assistance, the funding that is keeping lenders afloat.
After more than four hours of debate stretching into the early hours of Thursday, Greek lawmakers passed new austerity measures that are a precondition of as much as 86 billion euros ($94 billion) in international aid.
The government still needs to repay the ECB on Monday when 3.5 billion euros in bonds, bought under an earlier crisis program, fall due. Euro-area finance ministers on Thursday agreed in principle to a 7 billion-euro bridging loan, according to an official familiar with the decision. The cash could help Greece meet its near-term debt payments.
Greece's parliamentary approval, more than two weeks after the previous bailout expired and after the country imposed capital controls, can't change the fact that the country came within a whisker of having to leave the 19-nation currency club.
Grexit Plans
Europe has "a Grexit scenario prepared in detail," European Commission President Jean-Claude Juncker said on July 7 after Greek voters rejected a bailout proposal in a referendum.
German Finance Minister Wolfgang Schaeuble reaffirmed his view in a radio interview on Thursday that the only way Greece can get a debt reduction is to leave the euro. He cast doubt on the country's ability to complete negotiations on a third bailout.
Even ECB Executive Board member Benoit Coeure said last month that a Greek exit can't be ruled out. That's a significant shift for the ECB from September 2012, when Draghi warned investors not to bet on the breakup of the euro area, and that the central bank would do what it takes to keep the bloc whole.
"We say that the euro is irreversible," Draghi told reporters in Frankfurt then. "So unfounded fears of reversibility are just what they are -- unfounded fears."
Draghi may use his press conference to reiterate his view that the Greek crisis exposed the weakness of the single currency's institutional set up, and that Europe needs to make a "quantum leap" in integration.
"Last weekend was pretty unedifying and pretty depressing for people who think Europe should integrate further," Stephanie Flanders, chief market strategist for Europe at JPMorgan Asset Management, said in London. "In the long term, the way this agreement was reached will have some cost for Europe's standing with international investors."
Read this next:
Before it's here, it's on the Bloomberg Terminal.
LEARN MORE