Diamond Cutters Turned Stent Makers in India Challenge Abbott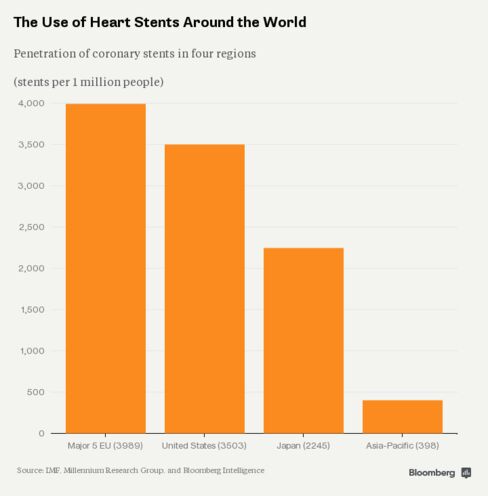 In the western Indian port city of Surat, businesses linked to the diamond industry are turning their expertise to coronary stents, creating an unusual hurdle for industry leaders like Abbott Laboratories and Medtronic Plc.
Using laser technology gleaned from years in the area's historic diamond trade, family-owned firms like Sahajanand Medical Technologies are churning out lower-priced copies of stents made by the world's biggest medical-device makers. Stents are tiny mesh tubes used to prop open arteries after they've been cleared of fat clogging the flow of blood.
Over the past three years, local stent makers have expanded their share of the Indian market to close to 40 percent from 33 percent, according to data from the Cardiological Society of India, posing a threat to the growth of global giants like Medtronic. These little-known companies also have expanded overseas, with some securing approval to sell in the European Union and others venturing as far as Latin America.
International companies tend to have higher prices because of the breadth of their product trials, Jeff Windau, an analyst at Edward Jones & Co. in St. Louis said in an e-mail. "This has allowed for local manufacturers to gain market share" in India, he said. "We believe these trends could remain in place over the near-term."
While the Asian market for drug-coated stents expanded 16 percent last year, global sales shrank 2 percent to $3.9 billion, according to Millennium Research Group.
Precise Design
Inserted with a catheter into a blood vessel in the groin, stents are guided to blocked arteries in the heart with the help of x-rays. They require precise design, and in the U.S., years of testing to show the devices are safe and provide benefit.
Surat has had a flourishing gem trade for decades. An engineer who married into a family of diamond traders, Sahajanand's chairman, Dhirajlal Kotadia, built a laser cutting machine in the 1980s to make the technology affordable to local gem cutters.
By 1998, as the machines became a mainstay in the local industry, Kotadia decided to modify the technology to cut the metal tubes used in stents. Patient demand for the devices has been climbing as India's health-care system expanded, and economic growth brought lifestyle changes and a surge in heart disease.
Now, Sahajanand and Meril Life Sciences, the biggest Indian stent maker, are selling drug-coated stents approved in the European Union. The Indian list price of Meril's most advanced drug-coated stent is 38 percent lower than Abbott's newest available product, according to Sinocare Surgicals Pvt., a distributor.
Getting Entry
Indian companies mostly sell in less-regulated markets in Eastern Europe, Latin America, Africa and Asia, although their ambitions are growing.
Sahajanand sells stents in 40 countries, including Spain, Brazil and the U.K., and is negotiating with distribution partners in France and Germany, Chief Executive Officer Ganesh Sabat said. His company plans trials to seek U.S. Food and Drug Administration approval and aims to sell in the U.S. in 2019 -- even though the additional studies required may increase costs as much as 30-fold. It continues to make machines for diamond cutting as well.
None of the Indian-made devices have won approval from the FDA, which has among the world's strictest standards. The agency requires trials in thousands of patients and has in the past criticized the European Union for approving breast implants and hip-surgery devices that were later found to be unsafe.
Indian Market
Breaking into the U.S. would be challenging for most Indian stent makers. "It's not like India or Latin America, where if your product is good and your price is low, you're eligible for entry," said Jayant Singh, director of the health-care practice at Frost & Sullivan in New Delhi. "It's a very complex web of insurance companies, managed health organizations, and medical-device companies and hospitals."
India offers a vast, untapped market, with about 310,190 stents implanted in 2014, compared to 1.1 million in the U.S., which has a quarter the population. And the home-grown firms may be poised to gain even more clout.
India's government is planning to support the local stent industry with measures including price controls and preferential treatment for local stent makers for government procurement. India also eased regulations for foreign companies seeking to invest in local medical-device manufacturing.
Shailendra Kumar, a director at the Indian health ministry, didn't respond to calls seeking comment.
Prop Up
Navigating India's fragmented medical-devices market hasn't been easy for global companies. Medtronic's India share is 21 percent, little changed from three years ago, according to data from the Cardiological Society of India. Boston Scientific, which controls about 34 percent of the U.S. market for drug-releasing stents, has 9 percent of the Indian market.
Medtronic is concerned about India's proposed price control measures, said Jim Southwick, vice president of international government affairs. Price curbs "take away the differentiation in the market among products with different levels of benefit," he said.
India is among Abbott's key investment markets, and any government policy changes should benefit patients and advance innovation, Tushar Sharma, general manager for Abbott's vascular business in India and South Asia, said in an e-mail. Abbott is the country's largest stent maker with a 29 percent share in 2014, up from 21 percent three years ago.
At New Delhi's Fortis Hospital, patients are given a choice of foreign and local stents, with doctors explaining that for Abbott and Medtronic stents "they've done longer-term studies, gathered much more data," said Ashok Seth, chairman of the Fortis Escorts Heart Institute.
Even so, patients often choose Indian stents for their lower prices.
"And that's OK," Seth said. "At least we've given people a chance to make informed choices. We don't want to put in a device which actually destroys him -- in terms of his finances."
Before it's here, it's on the Bloomberg Terminal.
LEARN MORE