U.S. Soccer Chief Had Suspicions About FIFA Prior to Indictments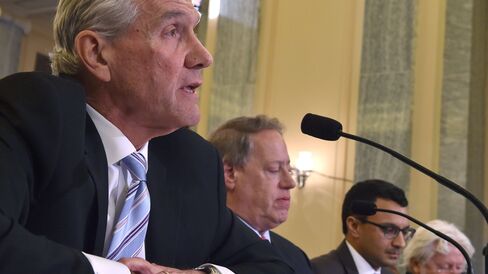 The U.S. Soccer Federation's secretary general said he had suspicions about FIFA, the sport's international governing body, but a lack of evidence kept him from acting before it was ensnared in a U.S. corruption investigation.
"There was nothing in the way of any facts that I could take to anyone," Daniel Flynn, chief executive officer of U.S. Soccer, told a Senate Commerce Committee hearing in Washington. "It was a discomfort level."
Soccer's leadership has been in turmoil since seven top officials were arrested in Zurich at the request of U.S. prosecutors, who in May said an investigation found more than two decades of criminal activity inside the organization that oversees the world's most-watched sporting event.
The government's plea deal with former FIFA executive committee member Charles "Chuck" Blazer, an American, unsealed last month, alleged 10 counts of criminal activity including racketeering and failure to pay taxes on $11 million in income. Blazer is a key witness in the investigation.
In response to questions, Flynn said neither he nor anyone who reported to him at the federation was aware of the U.S. federal investigation of FIFA. He said it would be hard to pinpoint a time when his discomfort began, although he suggested it was months rather than years and involved the way Blazer ran meetings of a regional confederation that included the U.S.
'Different Way'
"There was some concern that if I brought it to Mr. Blazer's attention that I may feel some level of discomfort in a different way," said Flynn in response to questioning by Senator Richard Blumenthal, a Democrat from Connecticut.
Flynn told lawmakers the organization lacked direct representation on FIFA's executive committee until two years ago, when current U.S. Soccer President Sunil Gulati won election to the body. Gulati wasn't present at the hearing. Flynn said because the subject of the hearing made him the better witness.
U.S. prosecutors charged 14 people with racketeering, wire fraud and money-laundering conspiracy after officials allegedly bought and sold votes for the 2010 World Cup and sought kickbacks from sports marketers. Four others have pleaded guilty.
When asked by Senator Jerry Moran, a Kansas republican and chairman of the subcommittee, if he was surprised by the indictments, Flynn responded, "I was not aware of any part of that investigation."
Blatter's Plans
FIFA President Sepp Blatter won a fifth term in office in May, but announced he would step down four days later.
Before he announced he was quitting, Blatter declined to appear at Wednesday's hearing, said Garrette Turner, a spokeswoman for Moran.
"With the announcement that FIFA President Blatter plans to step down, we're at a crossroads for the future of soccer," Moran said. "Now is the time for the United States and U.S. Soccer Federation to engage and determine how we can encourage meaningful reforms."
When asked if Gulati would appear at the hearing, U.S. Soccer said it would send Flynn instead, according to Turner.
"Where is he?" asked Andrew Jennings, the British investigative journalist who played a key role in exposing corruption inside FIFA. "It rather undermines the whole process."
Lawmakers raised concerns over the award of the 2022 World Cup to Qatar, which shed light on the country's migrant labor system, particularly in the construction industry.
"According to some reports, as many as 4,000 migrant workers will die before the first ball is kicked at the 2022 World Cup in Qatar," Moran said in prepared testimony. "That is appalling and unacceptable."
Foreign workers in Qatar are often deprived of pay, prohibited from leaving the country and forced to work in dangerous conditions, said Sunjeev Bery, an advocacy director for Amnesty International, a human rights organization.
"Migrant construction workers and migrant service industry workers are on the frontline in delivering the World Cup experience in Qatar," he told the panel in his prepared testimony.
Before it's here, it's on the Bloomberg Terminal.
LEARN MORE