Loonie to Kiwi Tumble as Canada Rate Cut Heralds Stimulus Wave
Crude-oil decline highlights challenge facing resource-linked economies
Commodity currencies slumped amid speculation an interest-rate cut from the Bank of Canada may augur more monetary stimulus by resource-producing nations.
The Canadian dollar fell to its lowest since 2009 as policy makers lowered borrowing costs to stimulate an economy struggling with the declining price of oil, its major export. The New Zealand and Australian currencies also tumbled to multi-year lows.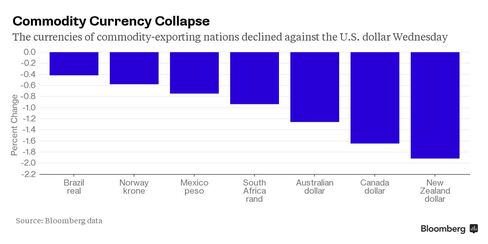 ``We could see further easing from all three central banks,'' Bipan Rai, director of foreign-exchange strategy at Canadian Imperial Bank of Commerce's CIBC World Markets unit, said by phone from Toronto, referring to Australia, New Zealand and Canada. ``The signals we're getting from global demand just aren't the same as they were in the heyday for commodity exporters.''
Canada's dollar, known as the loonie for the image of aquatic bird on the C$1 coin, slid as much as 1.8 percent.
The New Zealand dollar slumped as much as 1.7 percent while Australia's currency lost as much as 1.3. South Africa's rand, the Norwegian krone and Mexico's peso also slid.
New Zealand's currency declined to its lowest in five years after prices at an auction of milk -- the nation's major export -- fell. Weaker prospects for dairy prices are an economic headwind, the nation's central bank said when it cut rates last month.
``Growth momentum across commodity economies remains weak, and outright growth is likely to slow further,'' said Atul Lele, who manages $2 billion as the chief investment officer of Deltec International Group from Nassau, Bahamas. ``That may ultimately lead to deleveraging across housing and other asset classes, all necessitating increasing monetary stimulus.''
(This article was corrected for the company name in seventh paragraph.)
Before it's here, it's on the Bloomberg Terminal.
LEARN MORE