Gundlach Does Junk Bond Risk Dance Seeing No Rate Rise in 2015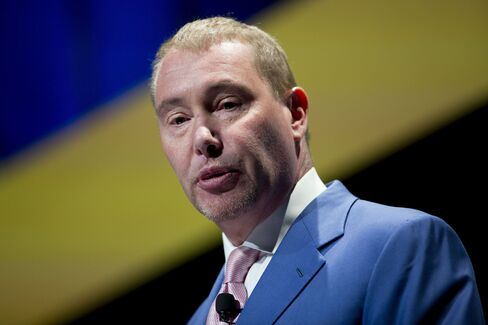 Bond manager Jeffrey Gundlach said he doesn't see the Federal Reserve raising interest rates in 2015 even as Fed Chair Janet Yellen reiterated the central bank remains on course for such a move.
Gundlach, co-founder of DoubleLine Capital, said on Wednesday at the CNBC Institutional Investor Delivering Alpha Conference in New York that if the Fed increases interest rates prematurely, it will have to cut again. The money manager also said that high-yield bonds will be a "debacle" in three to four years, although they are a good investment bet in 2015.
"I'm willing to dance the risk dance near the door" and invest in junk bonds, Gundlach said.
Gundlach, who runs the runs the top-ranked $46.6 billion DoubleLine Total Return Bond Fund, said in May that the Fed may not be in the position to raise interest rates in 2015. Earlier this month, he put the chances of the Fed raising rates in September at below 25 percent.
The money manager repeated that idea at the conference even as Yellen said Wednesday in congressional testimony that prospects are good for further improvement in the labor market and the economy.
Gundlach said he was bullish on emerging market bonds as well as Indian stocks, which he predicted are poised to soar over the next few decades on its growing labor force and favorable demographics.
"I'm really a ten on a scale of one-to-ten bullish on Indian equities for the next generation," he said.
In a CNBC interview after his presentation, Gundlach said it's likely that yields on 10-year Treasuries will "look at 2 percent again" this year.
Annaly, Apple
Outside the bond market, Gundlach said he bought a stake recently in Annaly Capital Management Inc., a real estate investment trust that invests in mortgages. He said he sold his investment in Apple Inc. and may exit his wagers against Chipotle Mexican Grill Inc. and Delta Air Lines Inc.
Gundlach's DoubleLine Total Return Bond Fund beat 79 percent of peers by returning 1.1 percent this year, according to data compiled by Bloomberg. Over the past five years, the fund has beaten 99 percent of similarly managed funds. His Los Angeles-based firm oversaw $76 billion at the end of June.
Before it's here, it's on the Bloomberg Terminal.
LEARN MORE