Apple's Lack of Sales Data Raises Flags About Demand for Watch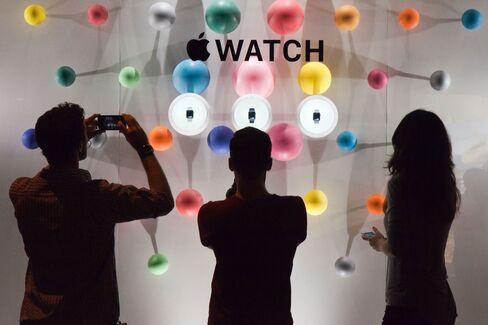 Apple Inc.'s silence on demand for its smartwatch is making it harder for analysts to gauge whether the wearable gadget is performing successfully. Yet even low estimates suggest the timepiece could become a bestseller.
Estimates for unit sales for the quarter that ended in June range from as little as 3 million to as many as 5 million. Bears say shipments dropped after the first few weeks, while others say Apple Watch is in the early stages of gaining widespread consumer acceptance.
Third-quarter results due next week won't shed a lot of light on the actual numbers. The company has said it won't break out unit sales for Watch, and Chief Executive Officer Tim Cook in April said only that he was happy with the response and that demand was outstripping supply. Even so, if analyst guesses are near the mark, the watch is doing at least as well as the iPhone and iPad -- both the first products of their kind for the company -- following their debuts in 2007 and 2010.
"The lack of having any numbers creates this intrigue," Ben Bajarin, an analyst at Creative Strategies, said in an interview. "It's a new category -- anytime Apple gets into a new category everybody is obviously super interested in that. You want to know how the new category is doing. Investors want to see growth."
'Other' Revenue
Cupertino, California-based Apple in October said it would limit how much information it released about Watch sales, lumping it into a new revenue category called "other" along with iPod, Apple TV, Beats headphones and speakers.
"I'm not very anxious in reporting a lot of numbers on Apple Watch and giving a lot of details on it because our competitors are looking for it," Cook said in October.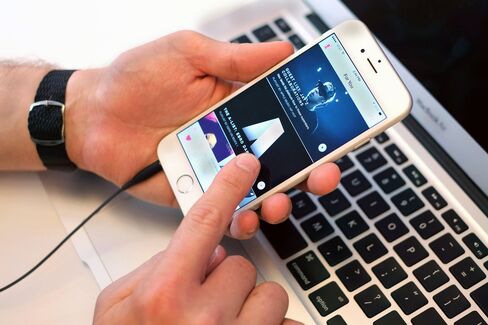 Though even the most optimistic estimates for Watch sales would add up to a fraction of the company's total revenue for the quarter, the gadget's perceived success is a proxy for whether Cook can continue to innovate and grow by pushing Apple into new products. The company is aiming to become an even more central part of consumers' digital lives, including wearable computing, fitness and health, and media content like music and news.
The thirst for sales numbers is partially Apple's own doing, after years of training investors, journalists and the public to expect announcements from the company saying that its latest iPhone or iPad had reached a record opening weekend in sales. Such announcements have become part of the buzz around product introductions that Apple has used to generate publicity and stoke consumer demand.
Web Orders
The company's approach to this new gadget, its first in five years, was different. Apple didn't offer the watch for sale in its stores at introduction. Instead, new retail chief Angela Ahrendts urged her employees to direct customers to the company's website to custom-order a Watch after trying out its features and styles in a store. Trying on the Apple Watch, in many cases, required an appointment.
In the absence of data from Apple about smartwatch demand, some research firms' estimates have taken on new power. Slice Intelligence, a market research company based in Palo Alto, California, released data to Marketwatch.com on July 8 estimating Watch sales had fallen 90 percent since its opening week. The estimates were based on electronic receipts and cover online sales in the U.S., Slice said.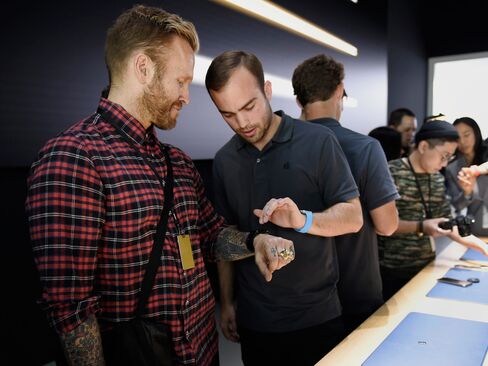 There were two very different interpretations of Slice's information: Some took it as a sign that Apple had finally stumbled, while others questioned the breadth and quality of the data.
Past Introductions
"To see U.S.-only online purchases drop after a period of pent-up demand and as store inventory become available is not interesting and says almost nothing about the product's performance," Horace Dediu, an analyst with Asymco, wrote on Twitter in response to a journalist's query.
In a statement, Slice said it's confident in its Apple Watch estimates, and the recent decline may reflect a shift in sales from online to in-store purchases.
https://twitter.com/asymco/status/620650107118063616
Looked at another way, Slice data suggests the Watch is at least on track to do about as well in its first three months as the iPad did at its release, and may blow away the original iPhone's debut numbers. Apple sold 2.97 million Watches in the U.S. online during the quarter that ended in June, according to Slice estimates.
After its release in late June 2007, Apple shipped 270,000 units of the iPhone in its first quarter, followed by 1.12 million more in the next quarter, for a total of 1.39 million in roughly its first three months. The iPad tablet hit stores in April 2010 with sales totaling 3.27 million in its first quarter on the market.
Analysts' Estimates
Creative Strategies' Bajarin said he estimates Watch sales were 4.7 million in the recent quarter and will reach about 5 million in the current quarter, before accelerating during the holiday season. FBR Capital Markets' Dan Ives estimates the company sold 5 million in the June period, with revenue from the smartwatch increasing to as much as 8 percent of the company's total in fiscal 2017.
UBS research "has indicated the Apple Watch is off to an OK but not fantastic start," with online "search volumes reflecting less interest than in previous Apple and consumer electronic product introductions," Steven Milunovich, an analyst, wrote in a June 25 note to investors. UBS is estimating Apple sold 3 million watches during the third quarter and may sell 8 million in the current period.
Whatever comments Apple executives make about Watch sales next week, observers will be poring over revenue growth in the "other" category for any clues.
"You're going to watch 'other' blossom from last quarter to this quarter," Bajarin said. "Then the real benchmark shifts -- every quarter from here on out until they give us Watch numbers, what happens with 'other'? Does it grow? Does it shrink?"
As for Cook, he told analysts in April not to read anything more into what he was saying about Watch demand.
"I'm thrilled with it," he said. "I'm not sure how to say that any clearer than that."
Read this next:
Before it's here, it's on the Bloomberg Terminal.
LEARN MORE