Singapore Economy Contracts Most Since 2012 on Manufacturing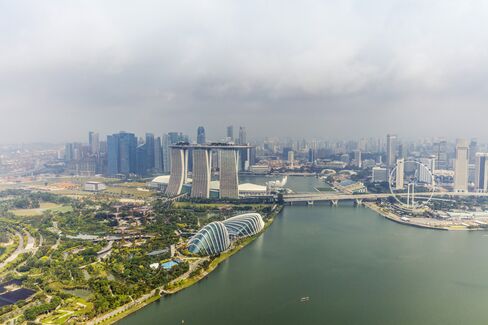 Singapore's economy contracted more than analysts predicted last quarter, underscoring the weakening outlook for Asian nations amid sluggish global growth. The local dollar weakened to its lowest level in more than a month.
Gross domestic product fell an annualized 4.6 percent in the three months through June from the previous quarter, when it expanded a revised 4.2 percent, the trade ministry said in a statement on Tuesday. The median in a Bloomberg News survey was for a 1.5 percent contraction.
Growth in global trade has slowed in the last few years after outpacing world expansion for decades, according to the International Monetary Fund. A commodities slump, China's slowdown and uneven recoveries in the U.S. and Europe have damped the exports that power many Asian economies.
"Manufacturing has been the weakest link," said Irvin Seah, an economist at DBS Group Holdings Ltd. in Singapore. "With the uncertainties in the global economy, I don't think economic conditions are likely to improve in the near term."
Singapore's manufacturing shrank an annualized 14 percent in the second quarter from the previous three months, today's data showed. Construction contracted 0.2 percent, while services fell 2.6 percent in the same period.
The Singapore dollar fell 0.3 percent to S$1.3612 against its U.S. counterpart as of 12:03 p.m. local time, its weakest level in more than a month.
Forecasts Cut
The economy's contraction is the worst since the third quarter of 2012, according to data compiled by Bloomberg based on previously reported figures. Analysts at Barclays Plc and Merill Lynch lowered their growth forecasts for Singapore for this year and next, following today's report.
The sluggish growth could trigger more monetary policy action by Singapore's central bank, some analysts said. The authority unexpectedly eased in January.
"The weaker-than-expected GDP release raises the risk of a policy shift in October," analysts at Nomura Holdings Inc. said in a research note today. "With core inflation below the target range, a weaker property market and bank lending, the GDP release could increase market expectations for easing."
The outlook elsewhere is also weak, with the International Monetary Fund last week cutting its forecast for global expansion this year. China's second-quarter economic growth may have slowed to 6.8 percent from 7 percent in the first three months, according to the median estimate of a Bloomberg survey ahead of data due Wednesday.
Singapore's economy expanded 1.7 percent in the second quarter from a year earlier, after growing a revised 2.8 percent in the previous three months. The median estimate in a Bloomberg survey was 2.4 percent.
Today's data are advance estimates computed largely from figures in the first two months of the quarter and may be revised later, the ministry said.
Before it's here, it's on the Bloomberg Terminal.
LEARN MORE