Machine Zone Said in Talks at $6 Billion Value After Upton Ads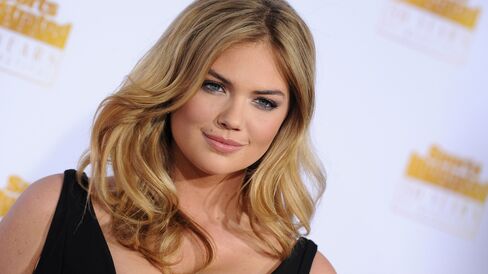 Machine Zone Inc. -- maker of the mobile game known for its television advertisements featuring model Kate Upton -- is gauging interest from investors in a new round of funding that would value the company at double what it was worth a year ago, people with knowledge of the matter said.
Machine Zone, which makes Game of War, has received offers for financing at about a $6 billion valuation, said the people, who asked not to be named because the discussions are private. Last July, Machine Zone raised funds that valued the company at about $3 billion, people familiar with the matter said then.
While Machine Zone could raise about $200 million, the company doesn't need the capital and may not proceed with the financing now, the people said. If the company does decide to raise the money, the offering and valuation may change, depending on who invests, they said.
One of the key sticking points is whether investors will see Machine Zone as a traditional digital-gaming company -- like King Digital Entertainment Plc or Zynga Inc. -- or as a provider of unique technology. Machine Zone developed a way for users from all over the world to play together, with no limit on the number of players and a translation feature that allows them to communicate without a language barrier.
Those applications span beyond gaming into finance, logistics, social networking and data analysis, Chief Executive Officer Gabe Leydon said in Businessweek in March.
Medieval Ads
Game of War is the second-highest grossing game on Apple Inc.'s iOS mobile software, after Supercell Oy's Clash of Clans, according to game consultant Think Gaming Inc.
Game of War's ads feature Upton riding horseback against a Medieval-era backdrop, with everything from sword fights to fire-breathing dragons. Machine Zone spent $40 million on the campaign, according to the Businessweek article. Think Gaming estimates that Game of War: Fire Age generates $1.1 million in daily revenue with 3.2 daily active users.
Still, the digital-gaming industry has fallen out of favor with public investors. King Digital, maker of the Candy Crush games, and Zynga, known for social-media games such as FarmVille and Words With Friends, have each declined at least 10 percent over the past year.
A representative for Machine Zone didn't respond to a request for comment on the proposed fundraising.
Venture Beat reported last month that Machine Zone was seeking to raise about $500 million at a "multibillion-dollar valuation."
Venture-backed companies raised more than $17 billion in private capital during the first quarter of this year, a record, according to data compiled by industry research firm CB Insights.
Before it's here, it's on the Bloomberg Terminal.
LEARN MORE