Love of Wrinkled Linen in India Brightens Europe Flax Fields
Pascal Prevost skims his fingers over blue flowers in a flax field in Normandy. Soon, the bright stems will end up as chic shirts in faraway Mumbai or Delhi.
Prevost is one of 6,000 flax growers in France who supply 60 percent of the raw material for the world's linen, the fabric of wrinkly bed sheets and summer suits.
This spring, French farmers sowed the most flax in a decade, according to Eurostat and industry figures, as the expanding demand for linen in India has helped prices recover from a slump.
"The emergence of a country like India provides oxygen to the industry," said Jean-Baptiste Voisin, vice-president of SCA de Teillage du Plateau du Neubourg, a linen cooperative in Normandy, a few kilometers from Prevost's fields.
Two decades of economic expansion have swelled India's middle class and the number of Indians with $50 to spare for a shirt. India's linen market was practically non-existent five years ago and is now growing 20 percent a year, said Marie-Emmanuelle Belzung, director of the European Confederation of Linen & Hemp, or CELC.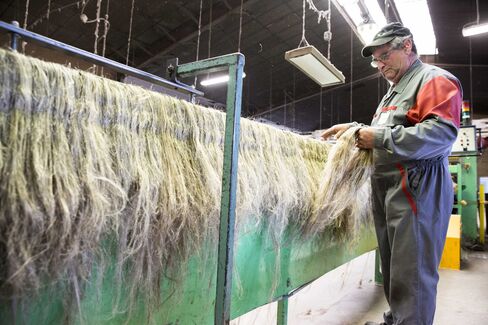 Wearing a linen shirt is a status symbol in India, said Rajiv Bajaj, head of branded shirting at textile maker Raymond Ltd., which has hundreds of retail outlets across the country. The wrinkles so typical of linen are the ultimate chic there.
"People who wear linen know this, so it becomes a feature," the executive said. "If it wrinkles, it's linen."
Indian Prime Minister Narendra Modi's penchant for linen kurtas, long shirts worn on the subcontinent, and Bollywood stars such as Saif Ali Khan and Shah Rukh Khan regularly sporting linen outfits have made the fabric popular.
Horsehair
Still, Europe and the U.S. remain the biggest markets for linen, according to Belzung. Brands from J. Crew to Valentino featured the fabric in their spring lineups this year.
Besides the comeback of knitted linen, demand is also being pushed by the use of the fiber in composites for tennis rackets to automotive parts, a market that now makes up 6 percent of demand, according to CELC data.
The finest linen starts as flax in Europe, where 80 percent of the long fibers used for textile is grown along the Channel and the North Sea, from the D-Day beaches in France to Amsterdam in the Netherlands.
Harvested Stalks
Once harvested, the stalks are left to decompose in the rain and sun, a process called retting, to separate the fibers from the stems, before the flax straw is gathered. Rollers and hammers crush the hard parts, removing the woody bits. What's left is a grey fiber that looks like horsehair and smells of straw. Most of the production is sent to China for spinning.
Prices depend on the fiber's length, strength and fineness -- a function of weather conditions, harvest timing and the retting process. To obtain a consistent quality, fibers from different years can be mixed together, Prevost said.
European prices for long flax fiber were an average 2,193 euros ($2,419) a metric ton in the six months through December, compared with 1,927 euros in the 2013-14 season and 1,626 euros in the season before that.
This year, farmers in France, Belgium and the Netherlands jointly planted 93,000 hectares of flax, according to CELC estimates, up 14 percent from last year and at its highest since 2007.
French Farmers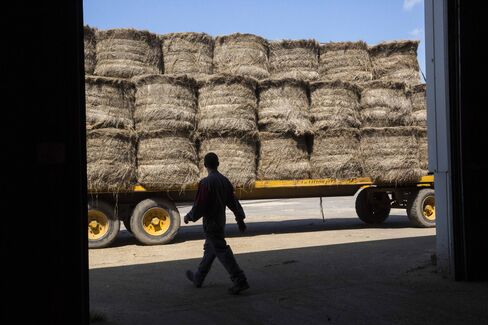 Farmers in France may gather on average 6 to 6.5 tons of flax straw per hectare this year, from about 7.5 to 8 tons in 2014, linen trader Saneco in Nieppe, France, wrote in a July 7 report. About 25 percent of harvested flax straw typically ends up as long fibers, according to Prevost.
The four flax-processing lines at Teillage du Plateau du Neubourg are running flat out after the cooperative added a third work shift, and the company is considering adding two more lines, director Bertrand Coulier said.
For all that, the global linen market is minuscule relative to still cotton and wool, making up less than 1 percent of the textile market, according to Belzung.
Read this next:
Still, linen's ability to absorb sweat and keep the body cool makes it a perfect fabric for India's climate, according to Raymond's Bajaj. As much of 25 percent of the branded shirts Raymond sells are linen, he said.
"India in the past 10 years has been one of the fastest growing economies, and you have an upper middle class than can afford it," he said.
Before it's here, it's on the Bloomberg Terminal.
LEARN MORE