Rapper 50 Cent Files for Bankruptcy After Sex-Tape Lawsuit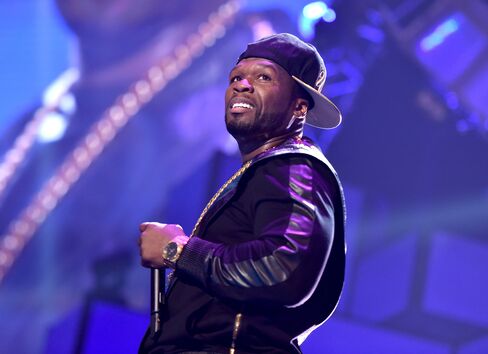 The Grammy-winning rapper known as 50 Cent filed for bankruptcy in Connecticut after losing a lawsuit in a New York court over a 2008 sex tape.
Curtis James Jackson III, whose 2003 debut album "Get Rich or Die Tryin'" was made into an autobiographical film, listed assets and debt of less than $50 million each in a court filing Monday in Hartford.
His personal bankruptcy follows a series of legal maneuvers that one federal judge called efforts to avoid trial in a five-year-old lawsuit involving the online posting of a sex tape.
Lastonia Leviston sued Jackson in 2010 in New York state court, accusing him of posting the sexually explicit videotape and seeking payment for the unauthorized use of her image and damages for emotional distress.
Leviston said the recording, which she made with a boyfriend in 2008, was meant to be private. The boyfriend transferred or sold the video to 50 Cent, according to the complaint. 50 Cent edited the video, adding narration and footage of himself dressed in a wig and robe, Leviston said.
Jackson has twice tried to have the case moved out of state court as trial was set to begin. In one instance, he cited the bankruptcy of SMS Promotions, his boxing promotion company, which filed for creditor protection the day before the sex-tape trial was to start.
A jury awarded Leviston $5 million in damages last week and was to consider further, punitive, damages, according to a clerk for Justice Paul Wooten in New York State Supreme Court.
'Improper Purpose'
In sending the case back to state court last month, U.S. District Judge Katherine Polk Failla in Manhattan said some of 50 Cent's arguments for removing the case to federal court beggared belief and accused him of using dilatory tactics "for the improper purpose of delaying the trial."
In a related move, 50 Cent sued another man, seeking to make him liable for any damages he may be forced to pay in Leviston's suit. The defendant in that case originally published the sex tape, 50 Cent said in court papers, adding that he just put an embedded link to the video on a website.
After the success of "Get Rich," 50 Cent was given his own record label, G-Unit Records, by Interscope, which had done the same for rappers Dr. Dre and Eminem.
He topped the charts again with his second album, "The Massacre," but found even more success in the drinks industry after partnering with Glaceau, the maker of Vitamin Water. He was given a stake in the company, which Coca-Cola Co. bought in 2007 for more than $4 billion.
"This filing for personal bankruptcy protection permits Mr. Jackson to continue his involvement with various business interests and continue his work as an entertainer, while he pursues an orderly reorganization of his financial affairs," 50 Cent's lawyer, William A. Brewer III, said in an e-mailed statement.
The bankruptcy is In re Curtis James Jackson III, 15-21233, U.S. Bankruptcy Court, District of Connecticut (Hartford).
Before it's here, it's on the Bloomberg Terminal.
LEARN MORE