Nigeria Fires Defense Chiefs as Boko Haram Attacks Intensify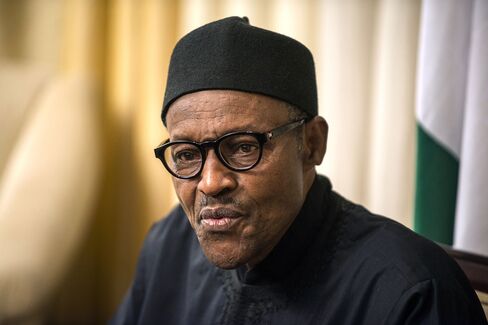 Nigerian President Muhammadu Buhari replaced the heads of the army, navy and air force on Monday as the country endures the worst period of violence by Islamist insurgents since he came to power six weeks ago.
Major-General Abayomi Gabriel Olonishakin will take over as Chief of Defence Staff, Major-General T.Y. Buratai will be the next Chief of Army Staff, and Babagana Monguno, a former major-general, was named as National Security Adviser, Femi Adesina, a spokesman for Buhari, said in a statement.
Attacks by militants have intensified in recent weeks. At least 14 people were killed on Saturday by suspected Boko Haram fighters in the northeast. Bombings in the cities of Jos and Zaria killed nearly 70 people in the past 10 days.
The new chiefs "will inherit a lot of problems: the insurgency in the north, mob robberies in the southwest and criminal violence in the Niger Delta," said Freedom Onuoha, a research fellow at the National Defence College in the capital, Abuja. The appointment of new figures to key security roles was expected as Buhari assembles his team, Onuoha said.
Buhari came to office on May 29 vowing to crush Boko Haram's six-year insurgency that has killed thousands. The group stepped up attacks on markets and other public places after losing territory earlier this year to forces from Nigeria, Cameroon, Niger and Chad.
Command Center
Buhari ordered the army to move its command center from Abuja to the northeastern city of Maiduguri, the birthplace of Boko Haram and scene of some of the worst violence. He has also traveled to neighboring countries to discuss cross-border military cooperation.
The military needed to be "re-professionalized" and its failure to defeat Boko Haram was an "embarrassment," Kayode Fayemi, policy director of Buhari's All Progressives Congress party, said in an April interview.
Buhari inherited a military leadership that had proven unable to secure the country against hit and run attacks, according to Manji Cheto, a London-based vice president at consultancy Teneo Intelligence.
"It's about time that he considers getting people in that can come up with a new solution to an asymmetrical war," Cheto said in an interview last week. "These same security chiefs haven't been able to deal with Boko Haram operating in this manner."
Read this next:
Before it's here, it's on the Bloomberg Terminal.
LEARN MORE