Greek Deal Shows Limitations Facing Syriza Ally Podemos in Spain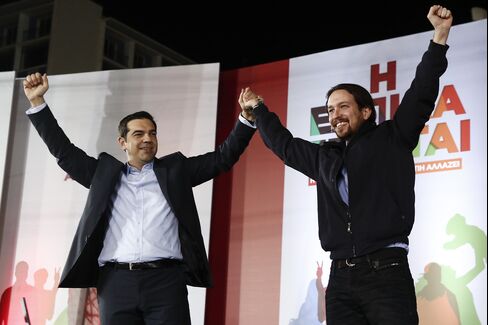 Greece's capitulation to creditor demands in an effort to stay in the euro may serve as a reality check to Prime Minister Alexis Tsipras's allies in countries such as Spain as they make their own bids for power.
With national elections due later this year, Spain is the most immediate barometer of the ramifications of the deal struck with Greece. Anti-austerity party Podemos, which has made common cause with Tsipras's Syriza bloc, and ideological adversaries such as Prime Minister Mariano Rajoy's People's Party were still parsing the fallout of the Brussels showdown.
"It's not positive for Podemos," Antonio Barroso, London-based analyst at Teneo Intelligence, said by phone. "It shows that if you come from a far-left platform, you still have to live by the conditions of monetary union."
Pablo Iglesias, the leader of Podemos, won't comment on the deal Monday, a party spokeswoman said by phone. In a Twitter post overnight, he expressed "all our support for the Greek people and its government against the mafiosos."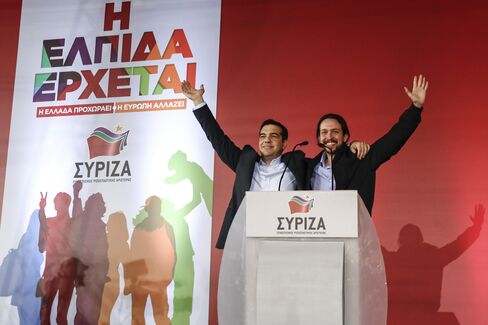 Iglesias tweeted a link to an article by Carlos Fernandez Liria, a professor at Madrid's Complutense University, in which he wrote that a "financial coup d'etat" had been necessary in Greece to prevent Podemos winning the elections.
Podemos will argue that a deal enforced by Germany shows why change is needed for countries such as Spain that have borne the brunt of austerity programs, said Angel Talavera, an economist at Oxford Economics in London. Rajoy said Monday that there had been no "vengeance" by Europe against Greece.
The result will encourage Rajoy's PP to reinforce its message that it is the party that has the skills to nurture Spain's economy recovery, Juan Ignacio Sanz, a professor at ESADE business school in Barcelona, said by phone.
"While anti-austerity parties will surely ride the current wave of resentment against the European Union, such a big surrender could hurt Podemos," said Talavera. "For all these parties it's a jug of cold water and a dose of reality."
Read this next:
Before it's here, it's on the Bloomberg Terminal.
LEARN MORE