Quick, which one's crazier, Greece or China?
The collapse of Chinese stocks in the past month does indeed eclipse Greece's market turmoil. But when it comes to the volatility of the exchange-traded funds tracking those two markets, it's a (scary) toss-up.
The Global X FTSE Greece 20 ETF (GREK) and the Deutsche X-Trackers Harvest CSI 300 China A-Shares ETF (ASHR) appear to be vying for riskiest ETF1. Both have seen their volatility more than triple in the past 10 days, to levels that surpass even the most hard-core leveraged funds.
The two countries' crises are entirely different. One is a stock market supernova, the other a black hole of debt. But in one sense they're a pair: GREK and ASHR are both showing more volatility than the Direxion Daily Junior Gold Miners Index Bull 3x Shares (JNUG). This is basically the most volatile ETF, if not security, on the planet, making bitcoin look like a short-term Treasury note. It's extremely rare for an unleveraged ETF, let alone two of them, to beat JNUG at its own game.
The Greek ETF has been a roller coaster in the two weeks Greece's stock market has been closed because of the nation's debt crisis, as GREK continues to trade in the U.S. On June 29, GREK was down 19 percent; the next day, it was up 6 percent, and it gained another 6 percent the day after. Last week held more sharp ups and downs. Now that a deal has been struck, GREK's volatility and daily trading volume should begin to subside. And while GREK was the first to see volatility spike, China is now giving Greece a run for its money.
Here we chart GREK (the orange line) against ASHR (the white one), which tracks the shares of the 300 largest companies on the Shanghai and Shenzhen exchanges by volatility. They are both at 150% or so, about 10 times the number for the S&P 500 Index: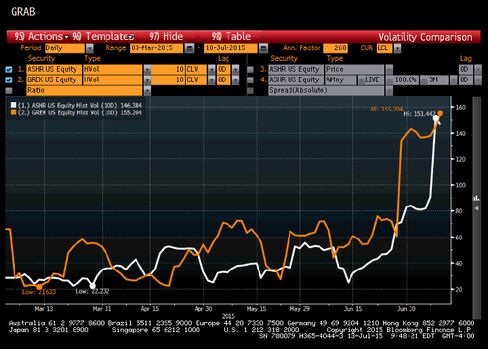 ASHR, the most popular and relevant ETF tracking those China shares, was down 7 percent on Tuesday and 11 percent on Wednesday, only to shoot up 20 percent on Thursday and 6 percent on Friday. In addition, 96 of the 300 stocks in ASHR have halted trading. Despite the short-term pain, ASHR is up 90 percent in the past year, compared with 7 percent for the S&P 500 Index. (The S&P 500 lost a lot of juice, after a 146 percent run, when the U.S. Federal Reserve ended its bond-buying program last October. Since then, U.S. stocks have been pretty flat as investors anticipate an interest rate hike at some point as well.) GREK was down 53 percent.
Both GREK and ASHR show how single-country ETFs can turn incredibly volatile in a flash, often because a government fails or falls or trading is suspended. That's why most long-term investors gravitate toward broader, more diverse funds for overseas exposure, such as the Schwab Emerging Markets Equity ETF (SCHE). SCHE invests in both Greece and China, but because it spreads its country bets, it now has about one-eighth the volatility of GREK and ASHR. SCHE is also much cheaper, with an annual expense ratio of 0.14 percent, compared with 0.65 percent for GREK and 0.80 percent for ASHR.
That doesn't mean a widely diversified fund like SCHE is risk-free, but it can absorb lots of single-country bumps while keeping the ride relatively smooth. That's a useful feature. You never know which market will vie for Most Dangerous ETF next.
Before it's here, it's on the Bloomberg Terminal.
LEARN MORE