Five Charts Putting China's Stock Market Mayhem in Perspective
"Markets are allowed to operate on the way up, not on the way down"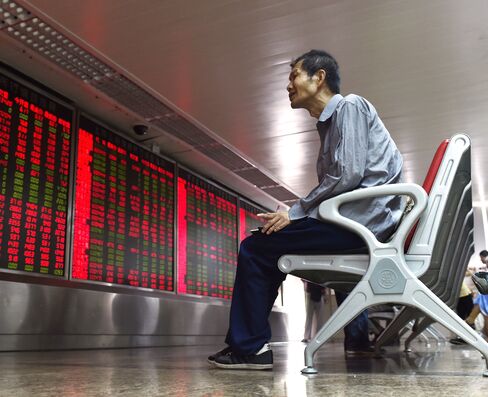 As the dust settles (for now at least) on China's frenzied boom-and-bust stock market, it's worth looking at the role equity markets play in the world's second-biggest economy.
As a share of gross domestic product, stocks just aren't as big a deal in China as they are in countries such as the U.S. or Japan, even after a run-up over the past year.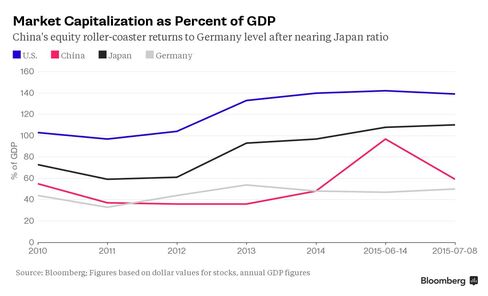 That should, in theory, mean China can shrug off the headline grabbing ructions more easily than the U.S. could.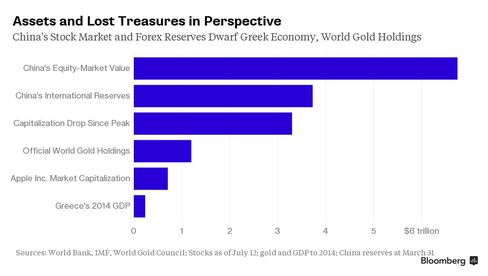 A comparison with bank loans and debt is also instructive, showing China remains a deeply bank-dependent economy.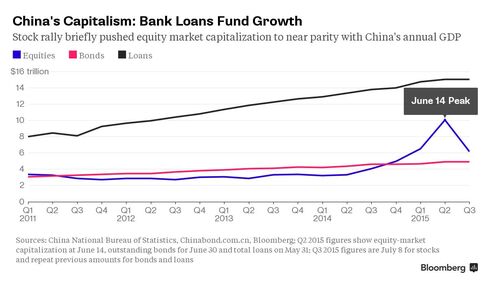 And when it comes to new funds raised, the real action this year is in the bond market, not equities, as a government-orchestrated provincial debt swap boosts that market.
Those charts help illustrate why policy makers were so keen on the equities uptrend while it lasted: It all played into the goal to let markets play a more "decisive" role. Yet when the market moved decisively, in swept the government response.
"The intervention signals the limits of Beijing's commitment to allow the market to play a decisive role," said Bloomberg Chief Asia Economist Tom Orlik. "Markets are allowed to operate on the way up, not on the way down."
To be sure, the stock market has still created a lot of value when viewed over 12 months.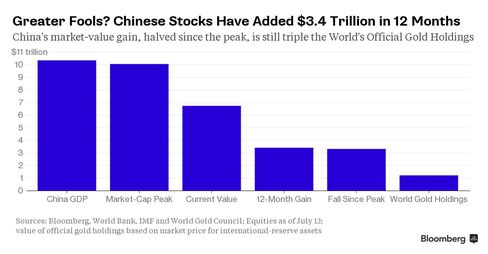 What happens next on the stock market is key to China's reform drive. Stabilization would salvage efforts to deleverage and erode bank funding advantages for state-owned enterprises; a further plunge may put that and other reforms such as capital-account opening at risk.
"Direct finance through the stock market and bond market is critical to lowering the cost of credit and channeling funds to high potential enterprises, bypassing the political economy problems in the banking system," Orlik said.
Before it's here, it's on the Bloomberg Terminal.
LEARN MORE