Asia's women are taking one step forward, two steps back when it comes to gender equality.
Family structures and entrenched notions of what constitutes women's work are holding back the region's female population from scaling the corporate ladder, according to the International Labor Organization.
The proportion of women graduates who studied construction, engineering and manufacturing has stagnated or even fallen in some countries, including Malaysia, Mongolia and Japan, UNESCO data shows.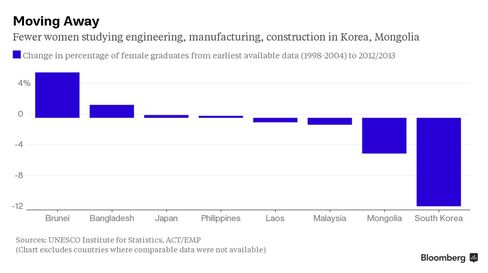 A standout is South Korea, where the proportion of female graduates choosing these fields has slumped to almost one in 10 in 2013 from more than one in five in 1998. Korean women also make up a smaller share of construction, engineering and manufacturing graduates compared with previously.
There can be a negative feedback cycle when female graduates in these fields find it difficult to find employment or stay on the job due to gender bias in areas traditionally dominated by men, according to the ILO.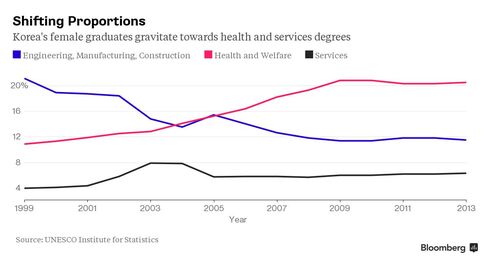 While women own and manage almost 30 percent of businesses in the Asia-Pacific region, female employers are mainly confined to micro and small enterprises, the ILO said in a report. The share of women bosses increased in countries such as Singapore, Thailand and the Philippines from 2008 to 2013, despite many major companies still lacking female voices on their boards.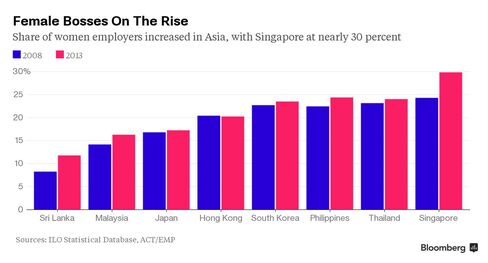 "The major obstacle we still find is that gender stereotyping is still there, perhaps linked to the fact that family responsibilities are still mainly assigned to women,'' said Deborah France-Massin, director of the Bureau for Employers' Activities at the ILO. "The glass ceiling is cracked, but it is still far from broken.''
Pay disparity also remains an issue in Asia: men in India and South Korea make more than 30 percent more than their female counterparts, the ILO said. Yet there are exceptions: in the Philippines' matriarchal society women actually earn more than men on average.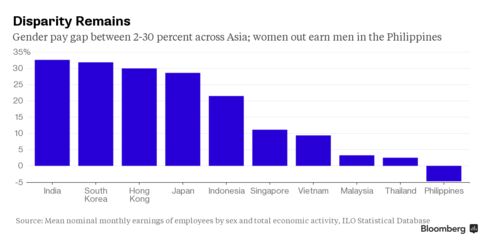 Before it's here, it's on the Bloomberg Terminal.
LEARN MORE