Venezuela's largest bank note of 100 bolivars is now worth about 16 U.S. cents on the black market, following a 33 percent plunge in the past month.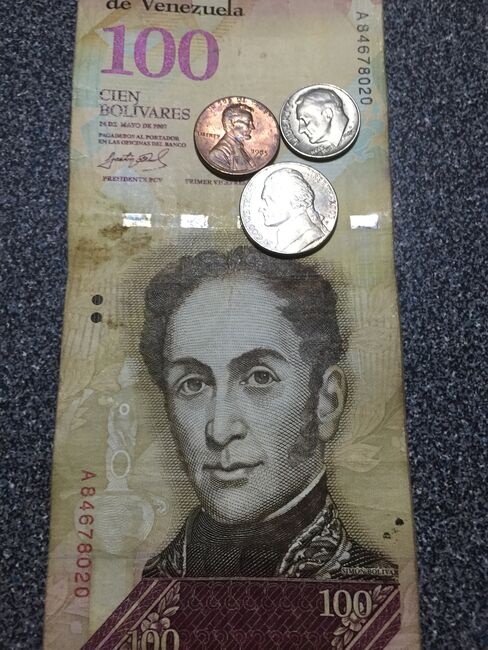 The currency weakened to 616 per dollar Thursday, meaning the greenback fetches 100 times more bolivars in the black market than it does at the primary official rate, according to data compiled by foreign-exchange website dolartoday.com.
Venezuela has maintained strict currency controls since 2003, pushing people and businesses to illegal street trading when they can't obtain government approval to purchase the U.S currency at the legal rates. The bolivar has tumbled 88 percent in the unofficial markets over the past year amid the fastest inflation in the world and as President Nicolas Maduro's administration prints more currency to pay budget expenses.
"The bolivar has gone parabolic in its collapse," Russ Dallen, the head trader at brokerage Caracas Capital Markets, said Thursday in an e-mailed report. "Two things are happening: less dollars are coming into the economy from the falling price of oil, and the Venezuela central bank is printing money like there is no tomorrow."
Venezuela's money supply, the entire stock of currency and other liquid instruments, has expanded 81 percent in the past year, according to data compiled by Bloomberg. Meanwhile, inflation soared to 69 percent in December, and the central bank hasn't provided any further updates since then. Bank of America Corp. said last month that the country's annual inflation reached 108.1 percent in May.
12-Year Low
The nation's foreign reserves fell to a 12-year low July 7 of $15.8 billion as the price Venezuela receives for its oil exports sank by half from a peak of more than $100 a barrel last year, according to the oil ministry. Oil accounts for more than 95 percent of the country exports.
While New York oil futures have surged 21 percent from a six-year low in March, they're still down 51 percent from their 2014 high and probably will stay around there for the rest of the year, based on analyst forecasts compiled by Bloomberg.
"There's a lot fear," Henkel Garcia, a director of Caracas-based consultancy Econometrica, said in an interview. "You have a very small supply of dollars, low reserves and oil prices. Given the situation, the dollar could reach any price on the black market."
Venezuela currently has three legal exchange rates of 6.3, 12.8 and about 200 bolivars per dollar used for imports. While Venezuela in February introduced a new government-sponsored money-changing system that was supposed to have a floating exchange rate, analysts have said the posted rate of 197.1 bolivars per dollar doesn't reflect the true supply and demand.
"The bolivar will decline even faster if the government continues to make mistakes," Ronald Balza, an economist at the Andres Bello Catholic University in Caracas, said in a telephone interview.
Before it's here, it's on the Bloomberg Terminal.
LEARN MORE