Tsipras Stuck Between German Rock and Greek Left Hard Place
Greece's Prime Minister Alexis Tsipras is faced with the ultimate dilemma: accept German-advocated austerity measures opposed by hardliners in his own party or take his country out of the euro.
While Sunday's referendum delivered a strong rebuke from Greek voters to the austerity demands, it also put pressure on Tsipras to strike a deal after many people cast their vote as a desire to stay in the euro on better terms. For some hardline members of his Coalition of the Radical Left or Syriza party, however, the vote was a firm sign of rejection of euro membership at all costs.
"Tsipras will probably face significant party unrest from the left bloc, which is already calling for him to insist on the path indicated in their view by the 'no' vote in the referendum," Nomura analysts including Lefteris Farmakis and Nick Matthews wrote in a note to clients Wednesday.
The most clear salvo came Thursday from Energy Minister Panagiotis Lafazanis, the head of the so-called Left Platform which controls about 40 hardline leftist lawmakers in parliament, mostly former communists, many of whom advocate unilateral default, bank nationalization and euro exit.
"We don't want a third memorandum with tough austerity measures," Lafazanis said at a conference in Athens. "The Greek people's 'no' isn't going to be turned into a humiliating 'yes' and a new bailout crematorium."
His remarks came a day after Tsipras applied for a three-year loan from the European Stability Mechanism, in a letter promising to implement tax and pension system reforms as soon as early next week.
Tsipras's cabinet Thursday approved a list of fiscal measures and reforms that the country must submit to its creditors by midnight in exchange for the new bailout. The decision wasn't unanimous and the proposals were approved by a majority, Iskra.gr, a website sponsored by Lafazanis's Left Platform, reported.
Failure to deliver a credible proposal will set off a process for the country's exit from the single currency as early as Sunday, its European partners have warned.
German Doubts
The German government is doubtful Tsipras is strong enough to turn against his own party and cooperate with the opposition, according to two German government officials familiar with Chancellor Angela Merkel's strategy.
In its letter, requesting the three-year bailout, the government struck a more conciliatory tone than before. The document, signed by the Greek Finance Minister Euclid Tsakalotos, said the government planned to honor all its debts and introduce a comprehensive list of reforms. That's a commitment not shared by everyone in the Syriza party.
"Tsipras still needs to overcome significant hurdles, both relating to the negotiation with Greece's creditors as well as within his own party, before he can make the leap to agreeing to a mutually acceptable conditionality package to avert the country's exit," Nomura's Farmakis and Matthews wrote.
'Odious Debt'
A day before Tsakalotos sent the bailout request, Zoi Konstantopoulou, the speaker of the Greek Parliament, said that Greece's debt is "illegal, odious and unsustainable." This debt cannot be repaid "without further violation of fundamental social and economic rights," the Syriza lawmaker said in a letter to European Parliament president Martin Schulz.
To avoid "disaster," Tsipras would have to repudiate his past positions, Jacob Kirkegaard, a senior fellow at the Peterson Institute in Washington, said in a blog post.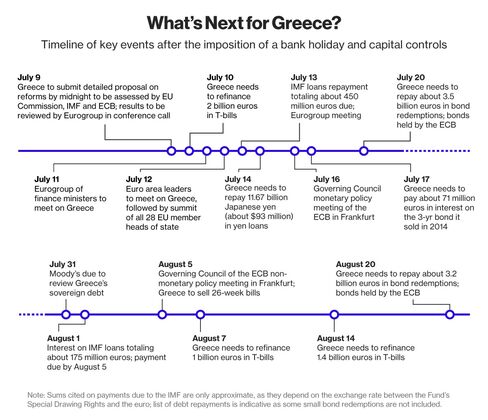 Read this next:
"Tsipras is well positioned to pull off such a dramatic turnabout," said Kirkegaard, citing his strengthened position domestically after winning the referendum with 61 percent backing his call to vote "no." "He should be able to secure a cross-party mandate from the main opposition parties, clearing the way for parliamentary approval even if he were to lose large parts of his own party's MPs."
Before it's here, it's on the Bloomberg Terminal.
LEARN MORE