Kroger, Netflix Fail to Revive S&P 500's Dwindling Stock Splits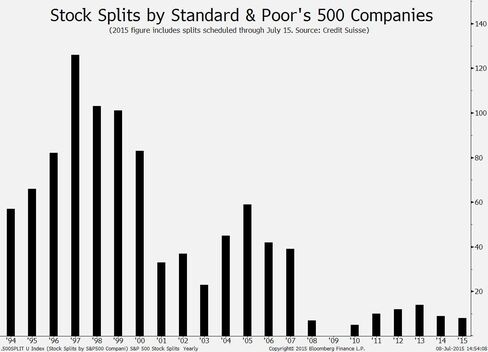 Netflix Inc. and Kroger Co. are going against a trend among companies in the Standard & Poor's 500 Index by planning stock splits, according to Ana Avramovic, a U.S. strategist at Credit Suisse Group AG.
As the attached chart illustrates, splits have occurred much less often in U.S. stocks' current six-year bull market than they did in the previous two advances, in 1995-2000 and 2002-2007. The chart is based on figures compiled by Credit Suisse and presented in a report two days ago.
"Why do stock splits matter?" Avramovic wrote. Her answer: Because their absence has caused the average price of S&P 500 stocks to almost triple since 2009, to about $90. The surge has weighed on share trading, which can make buying and selling more difficult, the New York-based strategist wrote.
Share prices are second to volatility among the biggest influences on monthly buying and selling data, Avramovic wrote. She added that initial public offerings and stock repurchases, "regulatory friction" and the previous month's trading have less of an effect.
Netflix, the video-subscription service based in Los Gatos, California, has a 7-for-1 split scheduled for July 14. Kroger, the Cincinnati-based owner of the largest U.S. supermarket chain, is due for a 2-for-1 split the previous day.
Six other S&P 500 companies -- CF Industries Holdings Inc., Marathon Petroleum Corp., PPG Industries Inc., Ross Stores Inc., Starbucks Corp. and Visa Inc. -- carried out splits this year.
Before it's here, it's on the Bloomberg Terminal.
LEARN MORE