Irrational Exuberance Bred Chaos as China Watchdog Sidelined
It wasn't exactly the same as U.S.-style "irrational exuberance," but the run-up to China's great crash of 2015 is leading to similar questions as to why the regulator didn't do more.
China Securities Regulatory Commission officials had tweaked rules for brokerages' lending for stock purchases. And, similar to former U.S. Federal Reserve Chairman Alan Greenspan, CSRC Chairman Xiao Gang had warned investors against following the stampede into the market "blindly, like sheep."
It wasn't enough.
"Regulators could have been more aggressive in managing margin trading and collateral rules," said Andrew Wood, a Singapore-based China analyst for BMI Research, a unit of Fitch Ratings. "It was already clear that the market was quite frothy by the beginning of this year."
Instead, the CSRC was left as a bystander as state-run media mostly talked up a market that the Chinese government is determined to use as a tool for wealth creation -- even if that means periods of excess followed by sharp corrections.
"When the government policy has been to use a stock-market bubble to boost a household wealth effect, the CSRC could only do so much to regulate the stock market," said Chen Zhiwu, a finance professor at Yale University, and a former adviser to China's cabinet.
Emergency Measures
The CSRC, which this week rolled out more emergency measures to try to support the market, didn't immediately respond to a request for comment. Stocks surged Thursday, making the biggest one-day gain since 2009, after the regulator banned major shareholders from selling stakes and said banks can roll over loans backed by shares.
As a former Bank of China Ltd. chairman and a novice market regulator, Xiao, 56, is more experienced in rolling out record amounts of credit, the government's tactic during the global financial crisis, than in curbing excesses. Now, the slump after record borrowing for stocks poses risks to both the financial system and economic growth while setting back reforms, including to the stock market.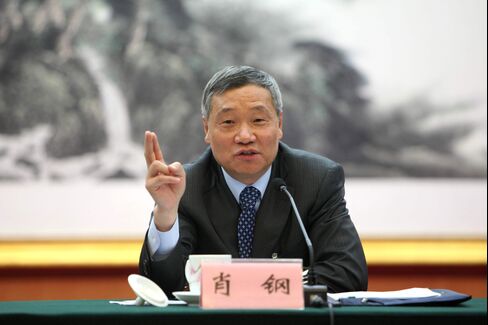 Just when the regulator was planning improvements to the system for initial public offerings, IPOs are on hold as part of emergency measures. Another recent step, the easing of margin-lending requirements for securities firms' clients, may swell risks in an industry the government has been nursing back to health after market declines in 2007 and 2008.
Fueling Bubble
The People's Bank of China may have helped to fuel stock mania by cutting interest rates and the amount of money that banks set aside as reserves. In a rare comment on equities, the central bank said in a financial stability report published in May that it wanted to support the "stable and healthy" development of the market.
Xiao himself lent support to the bulls' case when he said in March that China's economic reforms were a key driver of share gains.
In a June 26 speech at a financial conference in Shanghai, he didn't mention the market frenzy or the early stages of the sell-off that had begun two weeks earlier. As equities on the stock exchange only a mile away began a one-day, 7.4 percent plunge, Xiao stuck to his topic of capital markets and technological innovation. His speech was a stark contrast with central banker Zhou Xiaochuan two years earlier, who used the same forum to comment on an ongoing cash crunch.
The market selloff was dramatic enough for another speaker, Ha Jiming, a China vice chairman and investment strategist at Goldman Sachs Group Inc., to refer to it later in the day.
Media's Role
While the regulator could've done more to tighten brokerage lending for stock speculation, especially for the smaller stocks that have been most volatile, it was up against state media such as Xinhua News Agency.
"A series of pro-market articles from Xinhua over the course of the past year exhorted readers not to miss out on what it deemed to be close to a sure thing," said Wood.
Also outside of the CSRC's control: lending for stocks that came from sources such as peer-to-peer lenders and investment products called umbrella trusts.
When the regulator did make extra efforts to control margin lending -- preventing three brokerages from adding margin-finance accounts in January -- it triggered a one-day market plunge. No further significant actions followed until June 12, the market peak, when the CSRC set a ceiling for brokerages' margin lending and short selling.
Inglorious
While Xiao hasn't spoken publicly since his June 26 speech, the CSRC has taken a higher profile during the market crisis, issuing question-and-answer statements almost every trading day in July, describing efforts to quell panic and restore order.
At the same time, it hasn't always looked in charge. While a spokesman said July 3 that the number of IPOs planned for the month would be curtailed, Caijing magazine reported a day later that the State Council had called a complete halt.

Read this next:
"China's policy makers haven't covered themselves in glory in this episode," said Mark Williams, an economist at Capital Economics Ltd. in London who formerly advised the U.K. Treasury on China. "All along, though, it has felt that the cheerleading for the equity market has been coming from the top. If that's right, the CSRC probably felt it had to fall into line."
— With assistance by Jun Luo, and Paul Panckhurst
Before it's here, it's on the Bloomberg Terminal.
LEARN MORE