For Your Eyes Only: How Robots are Reshaping China's Economy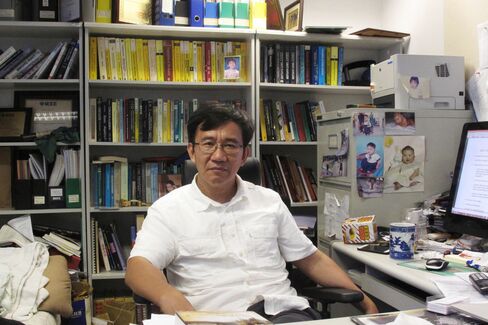 It wasn't the bikini-clad actresses that caught 19-year-old Chinese student Li Zexiang's eye when he was watching the James Bond film "For Your Eyes Only" in an American movie theater back in 1981.
It was the high-tech gadgets that Roger Moore's character deployed en route to defeating the enemy and retrieving a state-of-the-art defense communication device. In time, Li's fascination with Bond's equipment helped to foster a nascent robotics industry in China that's set to reshape its economy.
"That was the inspiration," Li, now a professor of electronic and computer engineering at the Hong Kong University of Science and Technology, says from behind a desk strewn with documents including a large envelope with equations scribbled across the back. "That was the first movie I saw in the States and the variety of technology they used to see, spy and kill -- that is robotics."
Li is at the forefront of a metamorphosis of Chinese industry from low-end manufacturing to sophisticated production. The world's biggest drone maker was conceived by students in his laboratories, he runs the national "Robomaster" competition where pupils compete to come up with the next big thing, and he advises Chinese mayors on how to deploy robots in their cities.
China became the world's biggest market for industrial robots in 2013, overtaking Japan, according to the International Federation of Robotics.
Robotic Revolution
"We believe this is only the beginning," analysts at HSBC Holdings Plc wrote in a June research note.
China today has about 30 industrial robots per 10,000 manufacturing workers, against the global average of 62, according to HSBC. Compared with advanced economies, the concentration is 10 times lower than Germany's and 14 times lower than in South Korea.
China wants to modernize its manufacturing chain so the country can increasingly make more sophisticated goods. The Communist Party is pushing a Made in China 2025 policy aimed at shifting the country beyond labor-intensive work into more advanced sectors like robotics and aerospace.
Rising labor costs and, in some areas, a shortage of workers is also pressing factories to change.
"China is going to have to become more successful at robotics because its labor costs are rising so fast," said David Autor, a professor of labor economics at the Massachusetts Institute of Technology. "It's either you increase productivity through automation or the work is done in another country like Vietnam, Cambodia or Brazil."
Early Days
Professor Li was born in Hunan, central China, in 1962, and was among the first batch of Chinese students to study in the U.S. after the nation emerged from the ravages of the Cultural Revolution as Deng Xiaoping set a course for economic revival. He studied electrical engineering and economics at Carnegie-Mellon University and earned a PhD degree in electrical engineering and computer science from the University of California at Berkeley.
Later roles included a stint as a research scientist at MIT's artificial intelligence laboratory and as an assistant professor in robotics and manufacturing at New York University.
He returned to Hong Kong when China's robotics market was just beginning. Industrialized nations like Germany, Japan and the U.S. for decades have led the way in robotic innovation, from the assembly line to personal use.
In China, progress has been slower, according to Xiao Geng, a China specialist at the University of Hong Kong and a former regulator.
China Challenges
"Innovation in China is high on the agenda but the institutional and legal agenda for innovation is not yet there," he said. "That is why the people of China become more innovative outside China."
Professor Li says convincing Chinese policy makers and company executives about the positive role robots can play has taken time.
"Four or five years ago if you went to a factory owner to talk about robots you would probably get kicked out; now, you go there and if you are a robot expert they grab you," said Li, who is also chairman of SZ DJI Technology Co., whose drones are used in everything from movie sets to Tanzanian farms, where they protect crops from being raided by elephants.
DJI was born in Li's Hong Kong University laboratory and incubated across the border in Shenzhen, where the company has grown into a world leader for drones design and production. A fire chief in Maine deployed his own DJI Phantom 3 Professional to deliver a life vest to a stranded boy on a rock in a river, the Washington Post reported on July 3.
Humanoid Robots
Siasun Robot & Automation Co. and Shenzhen Inovance Technology Co. are other leading robotics firms specializing in high-tech design for manufacturers. Retail giant Alibaba Group Holding Ltd. has entered a venture with SoftBank Corp. to sell the Japanese company's Pepper humanoid robot.
For Li, pushing school competitions like "Robomaster" will help to inculcate future generations of robot designers. This year, 250 teams took part from all over China. Li has plans to push the competition into Hong Kong and beyond.
"China can be the birthplace for the next generation of the robotic industry," he said.
Before it's here, it's on the Bloomberg Terminal.
LEARN MORE