China's Gray Market in Margin Lending Is Probably Massive
Umbrella trusts and web-based financing. Oh my.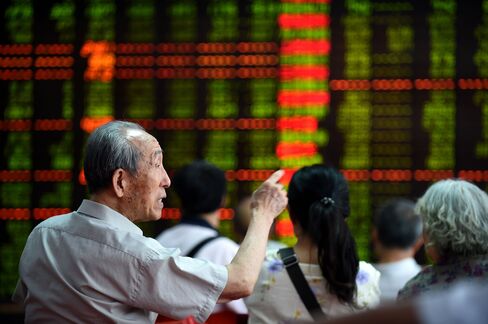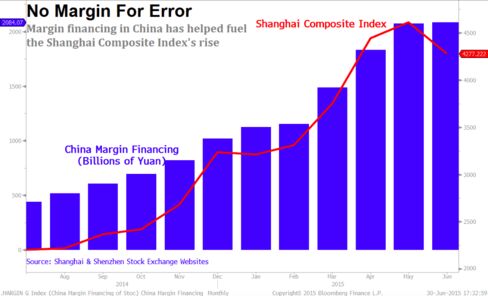 Chinese stocks have been on a terrible run. Many say the dramatic sell-off has been fueled by the unwinding of margin loans that once helped propel Chinese stocks to dramatic heights in the first place.
In recent months, the steady flow of margin loans had made Chinese regulators nervous. The amount of margin financing China's brokerages are allowed to extend has since been capped at about two to three times investors' initial capital.
Chinese brokerages had extended 2.1 trillion yuan ($339 billion) worth of margin loans to investors as of the end of last month. In mid-June, at the peak of China's stock market, that amount stood at 2.26 trillion yuan.
But as so often happens when it comes to China's economy, lurking below official lending figures is a sea of more informal financing arrangements that allow investors to punt on the stock market on even more generous terms.
Here's a quick sample of them, courtesy of Matthew Phan and David Marshall at CreditSights.
Umbrella trusts - These funds are said to have rapidly gained in popularity in recent months. Here's how they work. Big investors typically provide an initial injection of cash, for instance 20 percent of the total trust's value. The remaining 80 percent is funded by selling stakes to other, usually smaller, investors in the form of wealth management products that come with juicy yields. The typical umbrella trust structure is estimated to allow about five times leverage.
Financing companies - Small web-based financing firms can offer leverage of up to 10 times to retail investors who can open accounts for as little as 1,000 yuan ($161). While such sites offer hefty leverage, they do come with high interest rates. According to CreditSights, the monthly interest rate of 2-2.5 percent works out to a 20 percent annualized cost of funding.
The problem here of course is that the size of these informal margin lending arrangements is unknown. CreditSights refers to local media reports that put the gray market in margin lending at as much as 3 trillion yuan -- a number which would eclipse the official 2 trillion yuan figure.
In a study released earlier this month, the Securities Association of China (SAC), estimated the size of the country's informal margin lending balances to be a mere 500 billion yuan.
To many market participants, that number seems low. As CreditSights puts it:
The [500 billion yuan] estimate is far short of even conservative estimates by market observers, so various parties have expressed skepticism. For example, we note that the SAC study was based on self-reported data from the brokers. Further, the structure of informal financing means the broker may not have good visibility as to the source of funds in each account. For example, individual clients of a web-based margin finance company can register under fake names, as the company pools their funds and trades on their behalf ... There is the same lack of visibility with umbrella trusts, which domestic analysts have estimated at up to [1.5 trillion yuan] in scale.
The existence of a large shadow margin lending sector may go some way towards explaining the force of the sell-off in Chinese stocks even after the country's regulators tightened the screws on China's brokerages and moved to limit the firms' -- official -- margin lending activities.
Before it's here, it's on the Bloomberg Terminal.
LEARN MORE