Bombardier CSeries, Paper Plane No More, Gets Sales-Pitch Reboot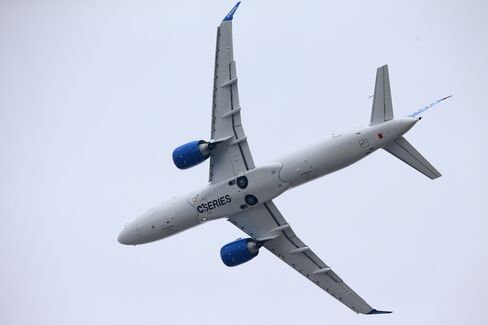 Bombardier Inc. boasts new assets in its quest to find buyers for the struggling CSeries jet: a revamped sales team and even better performance than advertised.
While the Paris Air Show in June produced no sales, Bombardier buffed the CSeries' image with flights at the industry's biggest annual expo. Now, drumming up orders will mean targeting owners of similar, aging planes and getting current customers to firm up options into purchases, according to analysts including AirInsight Inc.'s Addison Schonland.
"Paris was a critical milestone," said Chris Murray, an AltaCorp Capital analyst who attended the event. "Some airline guys saw the plane for the first time, and now there is a lot more confidence in the timeline and the actual performance of the aircraft. It's almost like we hit Day Zero of the sales cycle at the air show."
With its stock price slumping to the lowest since 2004, Montreal-based Bombardier can use a reboot. The planemaker last won a CSeries sale in September and has almost a third of the backlog tied to buyers that no longer need it or want new terms. The jet is more than two years late and $1 billion over budget.
Duopoly Challenge
Bombardier is betting the CSeries can crack the duopoly on single-aisle jets held by Boeing Co. and Airbus Group SE -- and produce as much as $8 billion in annual revenue by decade's end. Chief Executive Officer Alain Bellemare, who joined in February, brought in industry veterans including Fred Cromer, who now heads the commercial aircraft arm, and Colin Bole, the unit's senior vice president of sales.
"Their new sales people are leasing people," said Schonland, a Baltimore-based partner at aviation consultant AirInsight. "They know the fleet of every airline."
Even with the CSeries' stalled commercial debut creating more time to win deals, the 243 firm orders are short of a target of 300 by the time it's in service, now set for 2016.
Sales efforts "advanced on a number of fronts" as a result of meetings in Paris, Bombardier spokeswoman Marianella de la Barrera said in a telephone interview. "With the improved performance we feel we are in a much better position to capture opportunities."
That optimism has yet to carry over to the shares, whose 12 percent drop since the air show ended last month is the most among Canadian industrial companies. Wednesday's C$2.18 close was the lowest since December 2004, and the slide deepened Thursday after Aviation International News reported that Bombardier was reviewing the timeline for its biggest business aircraft.
Big Competitors
Built to hold 108 to 160 seats, the CSeries competes with Boeing and Airbus's smallest jets. Schonland cited possible sales targets including Latam Airlines Group SA, an operator of Airbus's A319, and Qantas Airways Ltd.'s QantasLink, whose fleet includes Boeing 717s.
One challenge is which customers will even take the planes. Russian lessor Ilyushin Finance Co. said in April that it wanted to renegotiate its 32-plane agreement, while Indianapolis-based Republic Airways Holdings Inc., which ordered 40, has changed its business model and doesn't need them.
"We continue to believe it is an innovative aircraft but we remain concerned by the lack of sales," Republic CEO Bryan Bedford said Thursday in an e-mailed response to questions. With the delays on the plane, "we have not made (and do not intend to make) any other statements about our plans for the aircraft."
Options Conversions
Other buyers may be open to converting options or firming up letters of intent.
Latvia's AirBaltic AS plans to cement options for seven planes besides 13 firm orders, Swiss consultant ch-aviation said in June. AirInsight's Schonland said Deutsche Lufthansa AG is a crucial prospect because it has 30 options and 30 orders -- and is the biggest airline on Bombardier's customer list.
Ilyushin, Latam, Qantas and Lufthansa all declined to comment on their fleet plans, while AirBaltic didn't respond to e-mail messages.
"If Bombardier could find a low-cost carrier that is willing buy in size to take market share from somebody, that would be a great thing," said George Ferguson, a Bloomberg Intelligence analyst.
The catch in winning that kind of buyer: Being willing to discount sticker prices of as much as $72 million, said Canaccord Genuity's David Tyerman.
"Do they have the checkbook open to try to get this done?" Tyerman said. "They could definitely do with a couple good quality orders sooner rather than later."
Before it's here, it's on the Bloomberg Terminal.
LEARN MORE