Abandoned Homes Haunt Japanese Neighborhoods
Ghost towns are coming as the population ages and shrinks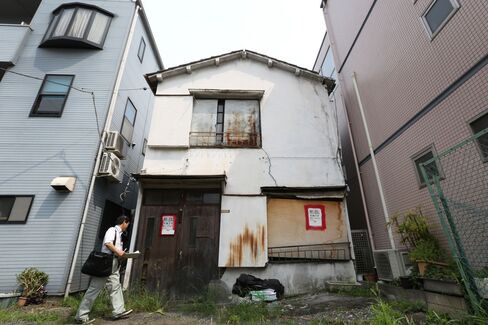 Population decline in Japan is so serious that parts of the country may be ghost towns in less than 20 years.
More than 8 million homes are already empty, and that number may reach 21.5 million by 2033, or about one-third of the nation's housing stock, Nomura Research Institute forecasts.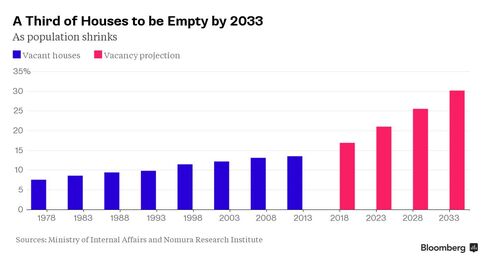 Building practices and a preference among Japanese buyers for new homes is compounding the problems caused by demographic change. Because the country's tax office typically depreciates the value of dwellings to zero in about 20 years, many homes aren't built to last.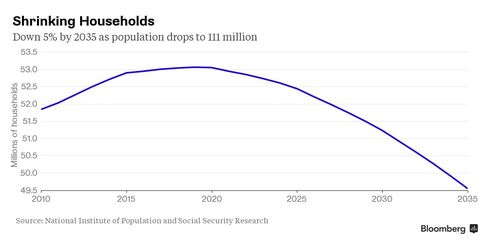 Wooden houses account for more than 50 percent of the market and are worthless after 22 years, according to the National Tax Administration Agency. Concrete apartments depreciate to nothing after 47 years.
This means that only about 15 percent of sales occur on the secondary market, compared with close to 90 percent in the U.S, according to the land ministry.
Developing this market is important to confronting the problem , according to Wataru Sakakibara, a consultant at Nomura Research Institute.
The number of newly built houses will gradually decline in coming decades, but not as fast as the drop in the number of households.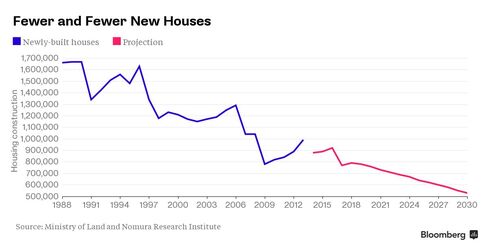 As part of government's efforts to deal with the problem, it may require owners to knock down empty houses from this year under threat of losing tax benefits. If an empty house is identified as harming the local environment, this could lead to a six-fold rise in taxes, according to the land ministry.
 

Before it's here, it's on the Bloomberg Terminal.
LEARN MORE