70 People Executed Under Kim Jong Un's Watch, South Korea Says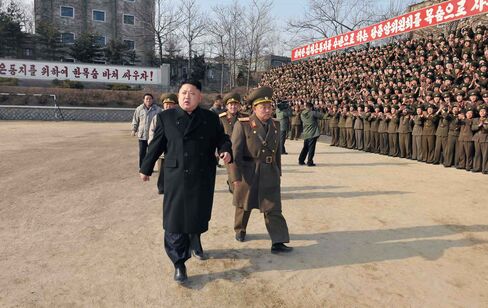 North Korean leader Kim Jong Un has executed about 70 people since taking power three and a half years ago, Yonhap News Agency reported, citing South Korea's foreign minister.
The estimate of people put to death since Kim took over the isolated nation was disclosed by Foreign Minister Yun Byung Se at a forum Thursday. Yun's estimate was provided in reference to executions of high-ranking figures, Yonhap said. While Yun's spokesman, Noh Kwang Il, later told a briefing that the ministry believed the pace of executions had increased under Kim, he didn't respond to calls seeking confirmation on the number of people killed.
South Korean officials have reported several high-profile purges and executions of officials in North Korea since Kim took over from his late father, Kim Jong Il in December 2011. The 2013 death of his uncle and one-time deputy, Jang Song Thaek, has been confirmed, but others, such as reports that he killed his former defense minister with an anti-aircraft gun earlier this year, have not.
North Korea's official Korean Central News Agency said Wednesday that South Korea was making up rumors to smear its longtime rival.
The South Korean government-affiliated Korea Institute for National Unification estimated that 1,382 public executions were held in the country between 2000 and 2014, according to a report last month citing interviews with defectors.
North Korea's judiciary isn't independent and doesn't hold fair trials, Robert King, U.S. special envoy on North Korean human rights, said in January.
Before it's here, it's on the Bloomberg Terminal.
LEARN MORE