Uber Said to Seek Up to $1 Billion Funds for China Carveout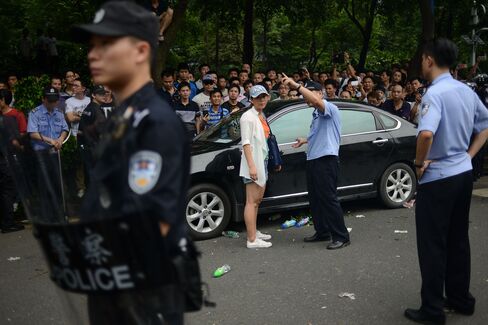 Uber Technologies Inc., the car-booking company, is seeking to raise as much as $1 billion in funding for its Chinese business, people familiar with the matter said.
Uber China has been discussing a valuation of about $7 billion to $8 billion with potential backers, the people said, asking not to be identified because the discussions are confidential. Baidu Inc., the Beijing-based Internet firm that's already an investor in Uber's global operations, plans to buy a new stake in the local unit, according to two of the people.
The deal marks the first time the San Francisco-based startup is separating operations in a specific country to introduce outside investors. Uber is spending to gain customers as it competes with larger rival Didi Kuaidi, which is backed by local Internet giants Alibaba Group Holding Ltd. and Tencent Holdings Ltd. and said Wednesday it had raised $2 billion in new funding.
"Uber has been burning through cash by providing subsidies," Mark Tanner, founder of Shanghai-based research and marketing agency China Skinny, said by phone Wednesday. "Didi is a very strong competitor."
Uber plans to invest more than $1 billion in China this year, according to a June letter to investors from Chief Executive Officer Travis Kalanick. Users of the Uber app complete almost 1 million rides daily in the country, with business doubling in the past month, Kalanick said at the time.
The Didi and Kuaidi apps, which form China's largest taxi and ride-sharing platform, merged this year to limit rising competition costs. The Chinese company works directly with existing taxi drivers, sidestepping some of the protests that Uber has faced in the country.
"We cannot comment on specific numbers," Kristin Carvell, a spokeswoman for Uber, said by e-mail. "But we've seen tremendous enthusiasm--greater than expected--from investors both in terms of the amount invested and the total valuation."
Baidu declined to comment in an e-mailed statement.
Before it's here, it's on the Bloomberg Terminal.
LEARN MORE