Elon Musk's Sun Valley Message Lost on Some Mogul Attendees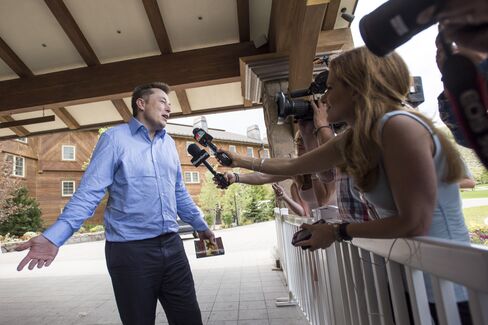 Elon Musk's vision of the future was rocket science for some of the most successful U.S. media executives at the Allen & Co. Conference in Sun Valley, Idaho.
A number of media moguls milling about the resort expressed a mixture of awe and confusion after co-founder of Tesla Motors Inc. talked at a panel on Wednesday. While CBS Corp. Chief Executive Officer Les Moonves dubbed Musk a "genius," other attendees said they had no idea what Musk was talking about.
"He gave his view of the future," Moonves remarked while walking from the panel to the lodge.
Although Moonves declined to elaborate on what Musk discussed at the selective invite-only event, another attendee said the billionaire entrepreneur addressed a question about driverless cars.
Musk projected the public would be able to use them in 3 to 5 years, according to the person, who asked not to be identified due to the private nature of the conference.
Musk, who is attending Sun Valley for the first time, is an ideal candidate to discuss that subject. He has invested billions in space travel and electric cars, and is known for having lofty ambitions such as creating a human settlement on Mars and powering cars on the Earth with batteries alone.
The entrepreneur fills his leisure time reading up on mankind's sci-fi-like future, and has expressed deep-seated fears about the dangerous potential of artificial intelligence. Upon his arrival at the lodge in Sun Valley, Musk addressed reporters with a copy of late Scottish science-fiction author Iain M. Banks's novel "Excession" in his hands.
Musk's rocket company SpaceX has gained approval to compete for military launches in May, underscoring the closer collaboration between government and private companies. Technological innovation is increasingly coming from businesses rather than the public sector.
"We certainly got a lot of support from NASA and the Air Force and from a lot of commercial companies doing commercial satellite launches," Musk said Tuesday in an interview with reporters.
SpaceX is also attempting landings on a custom-built ocean platform known as the autonomous spaceport drone ship -- so far without success. Musk has named one of the drone ships "Just Read the Instructions," a literary nod to Banks.
U.S. Secretary of Defense Ashton Carter will address "the importance of a strong partnership between private sector innovators and government" during a panel tomorrow, according to Nate Christensen, a spokesman for the U.S. Department of Defense.
Musk offered his vision of the future during a morning panel with LinkedIn Corp. co-founder Reid Hoffman. The two executives, who both worked at PayPal once, are members of what's known in tech circles as the "PayPal Mafia."
Before it's here, it's on the Bloomberg Terminal.
LEARN MORE