Spotify Just Had Its Best Week Ever on Apple Music's Home Turf
In the week since Apple Music launched, Spotify has spent five consecutive days in the top 10 most downloaded apps list.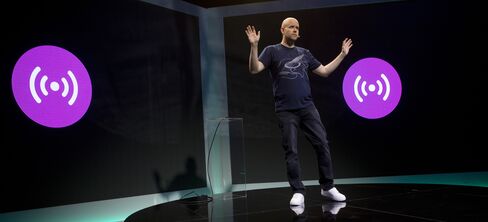 It's been a week since Apple Music launched, and one of the beneficiaries so far seems to be Spotify. The company with the most to lose just had its best week ever in the U.S. Apple store, measured by how it ranked among the most-downloaded apps. Spotify spent five consecutive days as the ninth-most-popular iPhone app in the U.S., a spot it hadn't reached for even a single day since December 2013. (Spotify has since fallen to No. 10, which still puts it ahead of its performance for almost every day in its history.)
More attention for streaming music has generally been good for Spotify, even if it is not the business making the news. Spotify's app also saw a big jump in the download rankings on the day that Jay-Z launched Tidal. And while Spotify took a hit in early June, when Apple announced plans at WWDC to stream music, it quickly recovered. Of course, downloads aren't the only measure of success for the company. The biggest question is how many people it gets to sign up for premium subscriptions, and that isn't clear from this data. A Spotify spokesperson didn't immediately respond to a request for comment.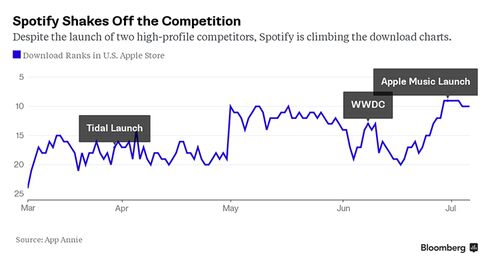 Apple thinks its biggest market will be people who don't yet have any streaming music subscriptions, so it isn't necessarily positioning itself as a Spotify killer. A week is clearly not enough time to see how this will play out, especially given that all of Apple's customers are still using free trial subscriptions. The big test will come in three months, when people will have to decide whether to start paying for Apple Music. If all the service does is poach customers who are already paying for Spotify subscriptions, it will be a failure both for Apple and for streaming music services in general.
Spotify continues to gain a foothold across the globe. The chart below shows countries in which its app has become one of the top 10 most popular mobile apps overall. This illustrates one of Spotify's big challenges: Its best customers are Apple's customers.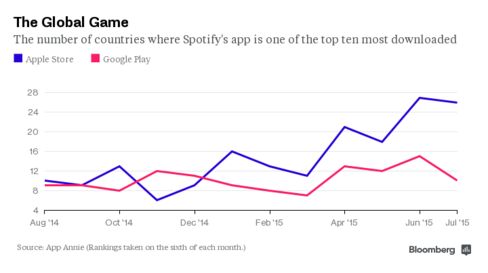 While Apple Music will eventually offer an Android version, its real advantage is on Apple devices, where the company controls a user's entire experience. Spotify has expressed concern that Apple could use this advantage as a way to squeeze its main rival. That could end up being a major problem at some point. But for now, at least, the streaming services seem to be rising together.
Before it's here, it's on the Bloomberg Terminal.
LEARN MORE