Iron Tumbles Below $50 as Bear Market Deepens on Supply Outlook
Iron ore's bear market deepened, with prices dropping below $50 a ton for the first time since April on concern that low-cost supplies from Australia and Brazil will expand further while demand stumbles in China.
Ore with 62 percent content delivered to Qingdao sank 5.1 percent to $49.60 a dry ton on Tuesday, falling for a ninth day, according to Metal Bulletin Ltd. Prices entered a bear market Monday, dropping more than 20 percent from a June high.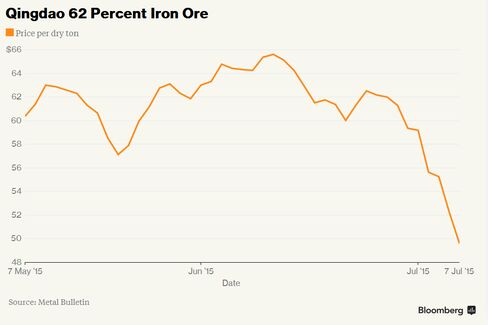 Iron ore's renewed slump highlights that the same factors of surging supply and stalling demand growth, which dragged prices to a decade-low early April, remain at the forefront. Momentum is clearly negative, which is hard to reverse in the near term, according to Paul Gait, an analyst at Sanford C. Bernstein & Co. The Minerals Council of Australia, which counts BHP Billiton Ltd. and Rio Tinto Group as members, defended local miners' policy of adding more output on Tuesday.
"In recent weeks, we have seen trade pick up," Jeremy Sussman, a mining analyst at Clarksons in New York, said before Tuesday's price data was released. "If this continues, we think iron ore can continue going lower," Sussman said, reiterating a view that the price may slump to $40 a ton.
The nine-day decline saw prices drop 21 percent, with losses spurred by figures showing inventories in China rebounded, while exports in June from Australia's Port Hedland were a record. So far this year, iron ore lost 30 percent, bottoming at $47.08 a ton on April 2.
Biggest Producers
Even as prices drop, Australia's biggest producers will generate more than A$615 billion ($456 billion) in revenue in the 10 years to 2024, surpassing the previous decade's total, the minerals council said in a policy paper. Rio Tinto and BHP Billiton are the country's biggest iron ore suppliers.
Iron ore may drop to average $50 this quarter as supply expands, led by mines in Australia, and there are further cuts to steel output, according to Morgan Stanley. The bank is more bullish over the longer term as some high-cost mines may close and the top producers become less competitive in their behavior, analyst Tom Price in London said in a note received on Tuesday.
The slump in prices validated forecasts from banks including Goldman Sachs Group Inc. and UBS Group AG for renewed declines, with Citigroup Inc. predicting prices will drop to less than $40 a ton in the final three months as supplies swell.
Before it's here, it's on the Bloomberg Terminal.
LEARN MORE