Embattled Malaysia Premier Najib Aided by Opposition in Mess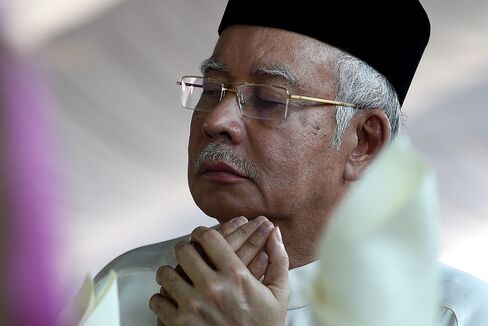 Malaysian Prime Minister Najib Razak, under fire for claims that $700 million in funds ended up in his personal accounts, may yet weather the political storm with the help of an opposition in disarray.
The crisis is the biggest to engulf Najib since he came to power in 2009, leading a coalition that's held power since independence in 1957. It has dented investor confidence and contributed to a fall in the ringgit as economic growth slows.
But while the allegations have been referred to a special task force and may prompt ex-leader Mahathir Mohamad to step up calls for the premier to resign, the fracturing of the opposition after months of infighting leaves Najib's fate very much in the hands of his own coalition. He retains support among rank and file ruling party members, and senior ministers have said the probe must be allowed to run its course.
"Within UMNO the division heads are very much united behind Najib," said Andrew Aeria, an associate professor at Universiti Malaysia Sarawak, speaking of Najib's United Malays National Organisation. "It doesn't help that the opposition has fallen apart."
In March, 160 UMNO division leaders pledged their support to Najib after he committed to improve the finances of debt-ridden state investment company 1Malaysia Development Bhd.
Public discontent with the government -- which was returned to power in 2013 despite losing the popular vote -- has centered more on unpopular economic policies and less on 1MDB, whose advisory board Najib chairs. The Wall Street Journal reported the $700 million may have moved through agencies linked to 1MDB before apparently appearing in Najib's accounts.
'Hold On'
While Najib has faced criticism for links to the alleged funds among opposition lawmakers and on social media there have been no major rallies seeking his resignation. The Coalition for Clean and Fair Elections, or Bersih, plans to call a mass protest if investigations into the money trail don't provide adequate answers, the Malay Mail Online reported.
"Najib will hold on," said Oh Ei Sun, a political analyst at the S. Rajaratnam School of International Studies in Singapore. "He won't step aside pending investigations because that hasn't happened before in Malaysia, and it's not in his character to do so."
Najib retains the backing of lower-income Malaysians, according to Shamsul Amri Baharuddin, a professor at the National University of Malaysia. The premier has given bigger cash handouts to the poor this year to help them cope with higher costs.
Senior Ministers
"We see that support for Najib remains unshaken among the bottom 40 percent of the population," said Shamsul, who has researched Malaysian politics and the impact of government policies as a social anthropologist.
While Deputy Prime Minister Muhyiddin Yassin has called on Najib to give a convincing explanation or denial, other ministers have publicly backed him. Home Minister Ahmad Zahid Hamidi said attempts to undermine a serving leader may be a risk to national security, while Defense Minister Hishammuddin Hussein said it's reckless to criticize Najib as the truth has not been determined.
A poll by the Merdeka Center for Opinion Research in March showed 69 percent of voters weren't fully aware what the 1MDB controversy was about, while 75 percent didn't know its role. A separate survey in January showed Najib's approval ratings sliding to 44 percent from 48 percent in October.
Accounts Frozen
The government ordered the Auditor-General to verify 1MDB's accounts in March and Najib asked investigators to expedite the process in May. The Auditor-General said last week it had completed an interim report and will submit it on July 9 to a parliamentary committee that is also probing 1MDB.
A task force comprising the Malaysian Anti-Corruption Commission, the central bank, and police raided three companies linked to 1MDB on July 3 and on Tuesday ordered a freeze on six bank accounts believed involved in the money trail that allegedly led to Najib. The task force has given no indication of how long its probe will run, and didn't give details of the accounts or who they belonged to.
The ringgit Monday tumbled to its weakest since a dollar peg was implemented in 1998, in part on concern the investment climate in the country may deteriorate and also as emerging market currencies fell broadly in the aftermath of a Greek referendum on a proposed bailout plan.
Opposition Alliance
An opposition coalition that's collapsed is one less worry for Najib. The alliance imploded in June after months of internal bickering including a disagreement over the planned implementation of shariah criminal law, and the jailing of leader Anwar Ibrahim for sodomy, a charge he has denied.
Mahathir has said Muhyiddin would be a good replacement as he wouldn't repeat Najib's mistakes, the Malaysian Insider reported in April. Muhyiddin is a deputy president of UMNO while Ahmad Zahid and Hishammuddin are vice presidents, putting them in line to replace Najib who is party president.
Even so, neither side of politics has a front-runner who might enact real policy change, said Aeria from the Universiti Malaysia Sarawak.
"That's the real tragedy of Malaysian politics, that we can't come up with credible alternatives in the opposition or within the Barisan Nasional" ruling coalition, Aeria said. "We are being led down a blind alley."
Before it's here, it's on the Bloomberg Terminal.
LEARN MORE