Buffett's Kraft Heinz Bet Valued at $24 Billion in Debut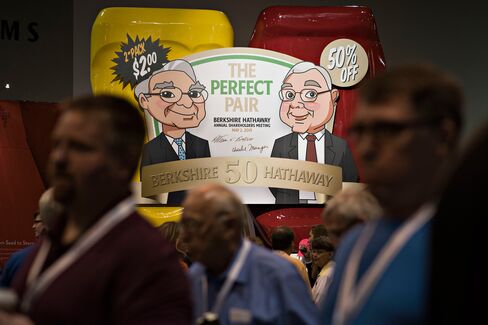 Warren Buffett helped take over H.J. Heinz in 2013 and facilitated its combination with Kraft Foods Group Inc. this year. His prize: a stake of about $24 billion in the new company, which began trading Monday.
Kraft Heinz closed at $72.96 at 4 p.m. in New York trading. Buffett's Berkshire Hathaway Inc. owns about 325 million shares, or roughly a quarter of the company, after investing approximately $9.5 billion over the transactions to acquire common stock.
The trading debut shows just how lucrative Buffett's partnership with investment firm 3G Capital has been. The buyout shop, co-founded by Brazilian billionaire Jorge Paulo Lemann, orchestrated both the Heinz and Kraft deals and will run the combined business. 3G is known for cutting costs and jobs to boost margins.
Lemann and his partners have built "marvelous businesses," Buffett said at Berkshire's annual meeting in May. "After they reduced the headcount to the number needed, the companies have done extremely well."
Already, 3G has moved to shake up leadership at the food company. Last week, Kraft Heinz announced a raft of management changes, including the departure of several Kraft executives. The company set a goal of cutting $1.5 billion in annual costs at the business by the end of 2017.
Kraft Heinz is now Buffett's second-biggest stock investment, ahead of Coca-Cola Co. and International Business Machines Corp. The largest, a stake in Wells Fargo & Co., was valued at more than $26 billion on Monday.
Berkshire also owns $8 billion of preferred shares in Kraft Heinz that pay 9 percent in dividends annually. The securities can be redeemed next year.
Both Buffett and Lemann serve on the Kraft Heinz board.
Before it's here, it's on the Bloomberg Terminal.
LEARN MORE