Fed Eclipsed in Russia as Utility Costs Risk Inflation Boost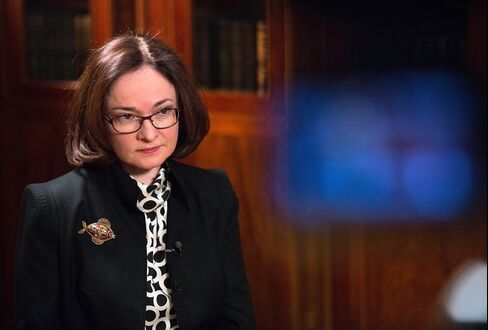 Don't blame Bank of Russia Governor Elvira Nabiullina for looking past another downtick in inflation.
While price growth eased for a third month in June, rising utility costs will tack on as much as half a percentage point to inflation in the week through July 6, according to the Finance Ministry. Inflation slowed to 15.3 percent from a year earlier last month, from 15.8 percent in May, the Federal Statistics Service in Moscow said Monday. A Bloomberg survey of 18 economists predicted price growth of 15.4 percent.
A currency crisis, geopolitical tensions, a crash in oil prices and a deepening recession have dominated Russia's policy agenda for more than a year. This month, though, consumers and businesses can add another concern to that list: the annual rite of increases in state-regulated prices. The same goes for the central bank, which signaled last month that continuing its easing cycle will be hindered by inflation risks, looser fiscal policy and a possible tightening by the U.S. Federal Reserve.
"The budget and tariffs that are now being discussed are taking on a crucial role for the central bank's rate decisions in the coming months," Artem Arkhipov, chief economist for Russia at ZAO UniCredit Bank in Moscow, said by e-mail before the inflation data. "All in all, the price dynamics have stabilized and higher readings are a result of increases in prices accumulated in previous months."
Rate Outlook
The Bank of Russia has cut its benchmark by a cumulative 5.5 percentage points in four steps to 11.5 percent after an emergency increase in December as oil prices steadied and the ruble rebounded. The central bank, whose medium-term inflation target is 4 percent, forecasts price growth will slow below 7 percent next June.
Derivatives traders are scaling back their bets on a decline in borrowing costs. Forward-rate agreements are signaling 29 basis points of decreases in the next three months, near the smallest this year. The yield on five-year government notes due May 2020 rose 13 basis points to 11.28 percent on Monday in Moscow.
Policy makers will cut the key rate to 10.5 percent by the end of the third quarter and bring it to 10 percent by year-end, according to the median forecasts of economists surveyed by Bloomberg.
While the changes in utility prices will result in a "serious" one-time weekly pickup in inflation, the acceleration is "fully expected," Deputy Finance Minister Maxim Oreshkin said July 1. Prices will rise an estimated 0.2 percent in July on a monthly basis and end the year at an annual rate of about 10.5 percent, according to the Finance Ministry.
Broken Trend
Consumer prices rose 0.2 percent from the previous month in June after accelerating 0.4 percent in May.
"The direct effect of the tariff increase probably won't allow annual inflation to drop this month," Oleg Kouzmin, a former central bank adviser who's now an economist at Renaissance Capital in Moscow, said by e-mail. Price growth still remains on track to slow to 11 percent by year-end, with "the dynamics of the exchange rate remaining the only risk factor for inflation in the coming six months."
Household prices for gas, water, electricity and heating account for about 6 percent of Russia's consumer-price basket, according to London-based Capital Economics Ltd.
This year's increase of about 8 percent compares with a 5 percent adjustment in 2014, Liza Ermolenko, an economist at Capital Economics, said in a July 2 report. Its impact on inflation will be "small," adding 0.2 percentage point to the annual rate, she said.
The effect will still be meaningful enough to prevent a rate cut at a meeting on July 31, according to Credit Suisse Group AG.
"The actual increase may vary across regions," Credit Suisse economist Alexey Pogorelov said in a note to clients. "We expect a pause in the disinflation trend in July that would prompt the central bank to refrain from policy easing at the next rate-setting meeting."
Before it's here, it's on the Bloomberg Terminal.
LEARN MORE