Greeks Vote on Place in Euro as Banks Run Dry: The Process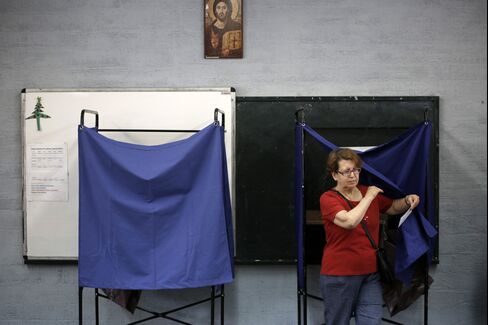 Greek voters go to the polls in a landmark referendum that could determine the country's place in the euro zone.
With no bailout program in place and banks running short on funds, the country is divided right down the middle heading into Sunday's referendum on whether to accept an economic overhaul program set out by its creditors.
This is a guide to the rules governing the voting.
-- Polling stations will be open from 7 a.m. to 7 p.m. Athens time. A total of 9.8 million Greeks are eligible to cast ballots, with more than a third in the greater Athens region.
-- Pollsters haven't confirmed if there will be exit polls; if there are, they may come immediately after the polls close.
-- Software distributor SingularLogic, which has been hired to run the counting and data processing, may be able to declare a preliminary outcome a few hours after polls close.
-- The vote count will be available on the Interior Ministry's website: http://ekloges.ypes.gr.
-- A least 40 percent of eligible voters need to cast their ballots for the referendum to be considered valid.
-- Opinion polls are mixed, with a poll commissioned by Bloomberg News showing 43 percent intend to vote "no" and 42.5 percent "yes." Some 14.5 percent are undecided.
-- The ballot will ask people to tick "no" or "yes" to the question of whether they approve terms attached by creditors to a now expired bailout offer.
-- Greek voters won't be able to cast absentee ballots or vote by mail. Greeks living abroad must travel home to vote, as no polls are set up in embassies. People can only vote at polling stations where they are registered, usually the town of their birth, unless they've registered ahead of time.
Before it's here, it's on the Bloomberg Terminal.
LEARN MORE