Uber Suspends UberPop Service in France Amid Clash With Taxis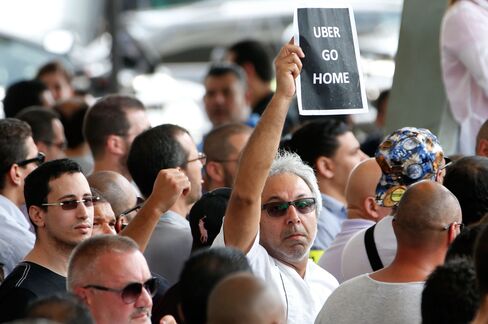 Uber Technologies Inc. suspended its UberPop share-a-ride service in France amid difficulties in the country including clashes with taxi drivers, tensions with the government and arrests of top executives.
The UberPop service is to be suspended from 8:00 p.m. local time to protect drivers and calm tensions with the French government, according to Uber France spokesman Thomas Meister.
Uber is awaiting a ruling from the French constitutional court in September on the Thevenoud law, which regulates services to transport passengers, Meister said.
Legal and political challenges have been stacking up in France for San Francisco-based Uber. Earlier this week, the head of Uber's French operations, Thibaud Simphal, and the car-booking company's general manager for Western Europe, Pierre-Dimitri Gore-Coty, were ordered to appear in court in September to answer accusations of fraud and illegal activity after the two managers were detained by police.
This followed a protest staged last week by taxi drivers against the low-cost service UberPop. French President Francois Hollande said at the time that UberPop "must be dismantled and made illegal."
The protest even caught up American rock singer Courtney Love, who said on her verified Twitter account that she escaped Roissy Charles de Gaulle airport on a motorcycle after rock-throwing protesters bashed her chauffeured car with metal bats and slashed its tires. She said she felt she'd be be safer in Baghdad.
While driving a Paris taxi requires buying a license that can cost more than 100,000 euros ($111,070), there is no such obligation for Uber drivers.
Read this next:
Before it's here, it's on the Bloomberg Terminal.
LEARN MORE