Canada Recession Threat Renews Rate-Cut Calls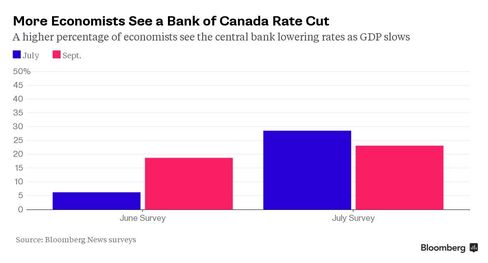 The threat of a recession and lower interest rates in Canada are making the Group of Seven's best-performing bond market even more attractive.
The gap in five-year yields between Canada and the U.S. widened to 88 basis points, the most in more than a decade as more economists call for a Bank of Canada rate cut, possibly as early as July 15. Yields are falling in Canada to reflect the assumption a slowing economy will keep inflation, the bond market's bogeyman, at bay.
"Going into the July meeting, there's certainly a risk that the bank might cut," said David Tulk, chief Canada macro strategist at Toronto-Dominion Bank. "This will extend the bond outperformance. You could see U.S. yields a lot higher and Canada could outperform on a clear divergence in monetary policy."
Four of 15 economists surveyed by Bloomberg from June 30 to July 2 see a rate cut on July 15, and three see more easing by September. That compares with one calling for a rate cut in July and three in September in the previous survey taken a month earlier. Tulk at TD declined to give the firm's latest forecasts because they are under review.
Finance Minister Joe Oliver on Friday predicted Canada would avoid a recession when second-quarter figures are released, and has pledged Canada will remain in surplus this year.
Bond Rally
Canadian bonds surged after Statistics Canada reported June 30 that the economy contracted for the fourth straight month in April, raising the prospect of a recession for the first time since the 2009 financial crisis. Canadian bonds are alone among Group of Seven nations to post gains this year, returning 1.9 percent, according to Bank of America Merrill Lynch's G-7 Government Index.
The downdraft in the economy that began with the collapse in oil, Canada's biggest export, is dragging on for longer than either economists or Bank of Canada Governor Stephen Poloz had expected. Poloz said in April the oil shock would be "front-loaded" in the earlier part of the year and that the worst of the oil crash was over.
The surprise contraction prompted several economists to revise their forecasts for interest rates and growth.
Charles St-Arnaud, senior economist at Nomura Holdings Inc., revised his outlook Thursday, saying it's clear January's 25 basis-point rate cut wasn't enough to help Canada's economy rebound from a collapse in the price of oil. The Bank of Canada will be forced to respond to an economic downturn it didn't foresee with a rate cut on July 15, said St-Arnaud, a former economist at the Ottawa-based bank.
Possible Recession
"Most likely, Canada is in recession right now and it's a big shock to the Bank of Canada's forecasts," St-Arnaud said by phone from London Thursday. "The Bank of Canada finds itself in a place where it's better to stimulate the economy now."
Economists at Nomura and Bank of America Corp. said they expect contraction in the second quarter, putting Canada in the first recession in six years, using a common definition of recession. The median estimate of 17 economists surveyed by Bloomberg in June called for growth of 1.1 percent in the second quarter.
Speaking in Toronto, Oliver said Canada isn't in a recession, pending second-quarter numbers, while acknowledging "mixed signals" in the country's economy. "We don't believe we will be in a recession," Oliver said.
Like a Surgeon
Poloz's own forecast for gross domestic product of 1.8 percent between April and June now looks outdated, St-Arnaud said. The 0.6 percent economic contraction between January and March was worse than the forecast for flat growth the Bank of Canada made in April. The central bank will release new forecasts along with a policy decision on July 15.
Last week Poloz said his "controversial" decision to cut interest rates to 0.75 percent was akin to life-saving surgery, with the risk of inflating consumer debt a side issue.
"The Bank will have to acknowledge the subpar growth performance, and at the very least, should adopt an explicitly more dovish tone in their policy communications, even if a rate cut is ultimately not delivered," Paul Borean, fixed-income strategist at Royal Bank of Canada, said in a note to investors Tuesday.
RBC didn't participate in this week's survey. As of June 12, its economists forecast no change until the second quarter of 2016, when it called for a rate increase.
On Hold
Apart from Nomura, Canadian Imperial Bank of Commerce, Desjardins Capital Markets and Capital Economics also revised their forecasts to include a July 15 rate cut, according to the Bloomberg survey. Bank of America Merrill Lynch senior Canada economist Emanuella Enenajor said she expects a second consecutive quarter of negative growth, but didn't revise her outlook for no rate change at the next two meetings.
Other economists said the Bank of Canada will remain on hold, waiting to see if the U.S. economy will bolster Canada's growth.
In a report Thursday, Bank of Nova Scotia economists led by Derek Holt said more easing won't help reverse the impact of a drop in global demand for commodities, and it may do more harm than good by fanning the flames of an overheated housing market.
"The shock of the oil price is much larger and more pronounced than the Bank of Canada might have expected and we haven't seen the pick-up in non-energy manufacturing that the bank had hoped to see," Tulk said. "You're left struggling for a growth engine."
Before it's here, it's on the Bloomberg Terminal.
LEARN MORE