Unemployment Rate Decline Could Have Yellen's Fed Scrapping Projections
Policy makers maintained their projection for long-run joblessness in June, but a falling jobless rate may force them to reconsider
By one measure, the U.S. labor market has already met the Federal Reserve's expectations for 2015: The jobless rate fell to 5.3 percent in June, matching the policy makers' projection for the end of the year, a Labor Department report Thursday showed.
The Federal Open Market Committee said in June that unemployment would ease to 5.2 to 5.3 percent in 2015, elevated just slightly from their expectation of a 5-to-5.2 percent longer-run natural rate (the joblessness that exists because of factors like labor market churn rather than due to cyclical weakness in the economy). The fact that the labor market has reached the committee's 2015 estimate already — and has done so without spurring stronger wage gains — may prompt officials to lower both the 2015 and the long-run estimate at their September meeting.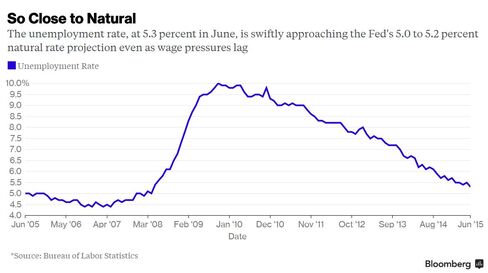 "If the unemployment rate continues to drift lower and we don't get any wage growth, that would signal that the natural rate of unemployment is even lower than we, and the Fed, think it is," said Ryan Sweet, senior economist at Moody's Analytics Inc. in West Chester, Pennsylvania. "In the next round of FOMC projections, you're going to see them cut their estimate of full employment. It's likely south of 5 percent.''
The Fed's natural-rate projection, which they left unchanged from March, is an important signal to monetary policy-watchers because it indicates how much further Fed officials believe the economy can improve. Once the FOMC is satisfied that the U.S. labor market has tightened sufficiently and believe that inflation will soon start to rise, they will be able to raise interest rates for the first time since 2006.
Still, the unemployment rate decline will be taken with a grain of salt and may be short-lived: It dropped because people left the workforce in June, not just because companies added employees. If Americans jump back into the job search in coming months, the decline could reverse.
Before it's here, it's on the Bloomberg Terminal.
LEARN MORE