The Long Odds CEOs Engineer Another Quarter of U.S. Profit Gains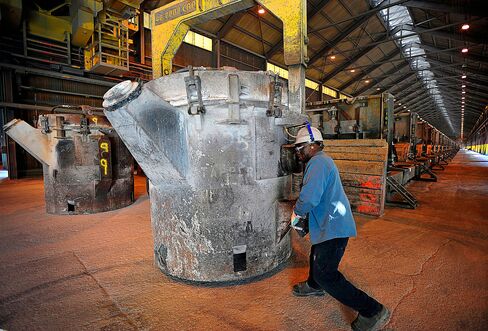 For five years, U.S. companies have dodged the ignominy of falling profits, often by beating analysts' estimates by just enough to push earnings higher than they were the previous year.
Repeating the trick will be their biggest challenge to date.
Six days before the start of earnings season, Wall Street forecasters predict profits will fall 6.5 percent in the second quarter, the most bearish estimate of the bull market. Even if companies exceed those predictions at the rate they usually do, it won't be enough to lift profits from last year.
U.S. earnings have been under pressure for nine months as falling oil prices cut results at energy providers and the dollar's ascent curbed demand for American exports. While one quarter of declining profits isn't the end of the recovery, it's more ammunition for bears who say equity valuations are too high.
"P/E growth drove a lot of gains last year, and I don't expect that to continue at that pace," Troy Logan, managing director at Warren Financial Service in Exton, Pennsylvania, said in a phone interview. His firm manages $150 million.
Since 2009, companies have outdone analysts' estimates by a median 4.3 percent, helping them rack up a string of quarterly earnings increases that reached 22 in March. This time, surpassing forecasts by that much would leave earnings at $29.76 a share -- below the $30.15 they reported in the second quarter of 2014.
'Slight Negative'
"It will be a very slight negative," said Tom Wirth, senior investment officer for Chemung Canal Trust Co., which manages $1.9 billion in Elmira, New York.
Not that it will be anything like the negative 6.5 percent disaster foreseen by Wall Street. "It's the old adage," Wirth said. "Under-promise and over-deliver."
Alcoa Inc. will release its results Wednesday to unofficially kick off the season. Profit-per-share for S&P 500 companies is projected to be $28.55. The equities gauge fell less than 0.1 percent to 2,076.78 at 4 p.m. in New York.
"Expectations are low, which is driven by both analysts and forward-looking company statements," Walter "Bucky" Hellwig, who helps manage $17 billion at BB&T Wealth Management in Birmingham, Alabama, said by phone. "We may well be negative year-over-year."
While the dollar and oil have slowed growth for the first half of the year, analysts believe the setbacks are temporary. Excluding the energy industry, which makes up 8.2 percent of the index, forecasts for the S&P 500 would be up 0.7 percent.
Five Predictions
Analysts forecast corporate profits will turn positive in the fourth quarter and lead to earnings growth of 1.2 percent for all of 2015, according to data compiled by Bloomberg.
This isn't the first time analysts have forecast S&P 500 earnings would fall, though none of the previous five predictions came true.
Companies successfully overcame pessimistic predictions last quarter, beating estimates by 7.1 percent. A repeat performance would push growth positive at $30.56 per share versus last year's $30.15.
"I don't think this quarter's going to be a blow out," said Phil Orlando, who helps oversee $360 billion as chief equity market strategist at Federated Investors Inc. in New York, in a phone interview. "If we can get something at or near breakeven on a year-over-year basis, based on the way management have managed down, then they've set themselves up for another upside surprise."
Before it's here, it's on the Bloomberg Terminal.
LEARN MORE