Beware of Greek Fate If Euro Is Adopted, Polish Opposition Warns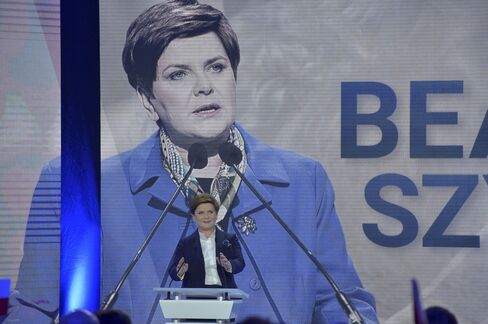 Poland would end up like Greece if it adopts the euro, Beata Szydlo, the opposition's candidate for prime minister, said on Thursday.
The country "definitely" won't join Europe's single currency if Law & Justice, the top opposition party, wins October general elections, she told reporters in Warsaw. The party is leading the ruling Civic Platform of Prime Minister Ewa Kopacz by about 10 percentage points in recent opinion polls.
"Greece's problems have started when it joined the euro," Szydlo said. "Civic Platform politicians have said time and again that Poland needs the euro and it's the path that Poland should be on. I'd like to appeal to them: abandon that bad idea unless you want Poland to become a second Greece."
Szydlo is reviving an issue that helped the Law & Justice candidate deliver the nation's biggest political upset in at least a decade during a presidential election in May. Andrzej Duda unexpectedly unseated President Bronislaw Komorowski after running a series of TV ads that suggested the currency switchover would boost prices and the cost of loan payments for Poles.
Greeks are set to vote in a referendum on Sunday, which may determine whether the country stays in the euro area after the government missed its payment to the International Monetary Fund, imposed capital controls and closed banks to stem economic collapse.
The zloty, which lost 2.8 percent against the euro last quarter, traded little changed at 4.1893 as of 2:42 p.m. in Warsaw.
No Target
Poland has abandoned its target date for adopting the euro following the currency bloc's sovereign-debt crisis, which the country survived without enduring a recession, the only European Union member to do so.
The ruling party's current stance is to delay the currency switch until the euro area successfully pulls through. Poland will also need to change its constitution to allow for euro adoption, which could be tricky with the opposition so adamantly against the plan.
Responding to Szydlo's comments, the prime minister said Greece's crisis had nothing to with its choice of currency.
"It's because the country was living beyond its means," Kopacz told reporters in parliament on Thursday. "That's why I've been warning that we should be avoiding populism and Greece should serve as an example of how it ends. I don't want Greece in Poland."
Before it's here, it's on the Bloomberg Terminal.
LEARN MORE